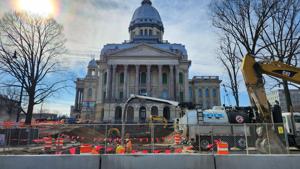 (The Center Square) – Illinois state Sen. Doris Turner is determined to make Department of Children and Family Services workers feel as protected as the people they serve and work with feel.
"DCFS employees protect our most vulnerable children and are often the most trusted person for our youth in case," Turner, D-Springfield, said in a post to her website. "We have heard about the caseworkers who have risked their lives during a home visit – they should feel safe while doing their job."
Turner is doing all she can to facilitate that vibe, recently introducing a bill that would increase penalties against people who harm DCFS workers on the job, making committing aggravated battery against a department worker a felony for people 21 and over.
"These are people that we entrust to be the spokesperson for and take care of our most vulnerable citizens and they come into some horrific situations," Turner said. "Oftentimes, you never know who's going to be and what's waiting for you on the other side of that door."
The so-called Knight-Silas Act legislation is being considered just over a year after DCFS worker Deidre Silas was stabbed to death while on a welfare visit in nearby Thayer.
When it comes to the passage of Senate Bill 2010, Turner says "no" is not an option after a similar measure stalled in Springfield last year.
"I made that commitment to her family last year that I would continue to push to get it passed," she recently told reporters.
Since Silas' death, the state has passed a law paving the way for workers to carry pepper spray. In a statement to The Center Square, DCFS communications director Heather Tarczan said Turner's bill is another step in the right direction in the battle to keep workers protected.
"Every day our frontline workers perform an extraordinary job of going into the field to initiate contact or perform a wellness check on our children and families," she said. "In many cases, the work they do to serve the children and families in their communities puts them in harm's way. This bill ensures DCFS and our private agency partners are treated like first responders who also put themselves in harm's way."
The legislation that would put DCFS workers in the same class as other front line workers, including teachers, peace officers and private security officers, has now been assigned to the Special Committee on Criminal Law and Public Safety.