Republican presidential candidate Tim Scott, in a visit to the southern border on Friday, said that his administration would finish construction of the Trump-era border wall, calling it an "absolute necessity." 
Sen. Scott, R-S.C., visited the border in Yuma, Arizona, and held a roundtable with law enforcement and community leaders and outlined a number of policies to tackle both the ongoing migrant surge and the flood of fentanyl into the U.S.
"I think finishing the wall is an absolute necessity," the South Carolina senator said at the roundtable.
The Trump administration built hundreds of miles of wall at the southern border, but the project was abruptly stopped after President Biden — who campaigned against wall construction — came into office.
BIDEN ADMIN WINS TEMPORARY REPRIEVE IN CASE CHALLENGING KEY ASYLUM RULE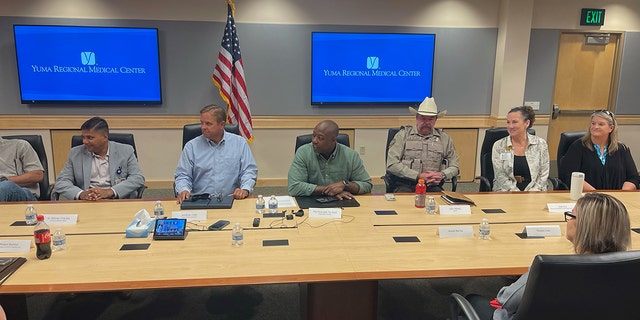 It was one of a number of moves by the Biden administration to reverse Trump-era border policies, and which were followed by a historic spike in migration. There were approximately 1.7 million encounters in FY 2021 and approximately 2.4 million in FY 2022.
The Biden administration has said it is dealing with a hemisphere-wide crisis and is expanding legal asylum pathways it says were gutted by the Trump administration. It has also called on Congress to approve more funding and pass immigration reform to fix what it says is a "broken" system. It has also pointed a drop in numbers recently to show that its recent policies are working.
But Republicans have pinned the blame on the Biden administration's policies. They have also warned that the border surge has brought an influx of fentanyl, which is produced in Mexico and then moved across the border by cartels.
BIDEN ADMINISTRATION SENDING SURGE OF ICE SPECIAL AGENTS TO BORDER AMID INCREASE IN MIGRANT NUMBERS
"The importance of building a wall, finishing the wall, using the available technology to surveil our border, to stop the flow of fentanyl across our border, is really important," Scott said.
It's one of a number of national security risks Scott highlighted. He also pointed to the countries from which many of the migrants are coming.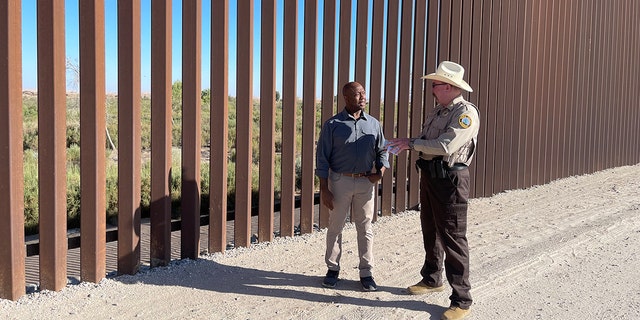 "The number of folks that are coming from countries that have an adversarial relationship with us is spiking. And it's because there's a sign somewhere out there that says the American southern border is open, and it's one of the more frustrating things that so many Americans are having to deal with, grapple with on a daily basis," he said.
Scott is also calling for additional Border Patrol agents, which he said would be provided for by eliminating the extra 87,000 IRS staff funded by the Inflation Reduction Act. 
He also called on legislation that he has introduced in the Senate to freeze the assets of Mexican cartels, and also for funding additional immigration judges for quicker removal of those in the country illegally.
The visit by Scott to the border is the latest move by Republican presidential candidates in regard to the migrant crisis. Both former South Carolina Gov. Nikki Haley and Florida Gov. Ron DeSantis have visited the border in recent months, and have also rolled out immigration policy proposals.
Meanwhile, there are indications that migrant numbers are increasing at the border, after they dropped during May and June in the wake of the expiration of the Title 42 public health order.
The Biden administration won a reprieve on Thursday when a Ninth Circuit Court of Appeals panel granted a stay on an order which would have blocked its cornerstone asylum rule.