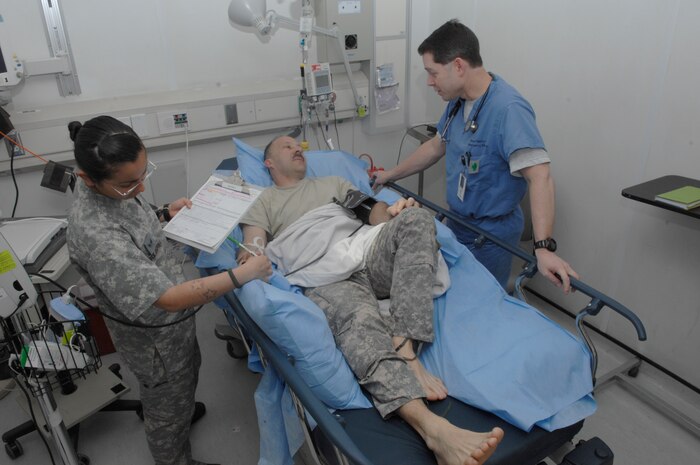 BAGRAM AIRFIELD, Afghanistan —  
The Craig Joint Theater Hospital is one of the most advanced hospitals in the U.S. Central Command and many of its functions are just what you would expect in a U.S. hospital.
"This hospital is a Role 3 hospital which means that most of things done back at home can be done here," said Lt. Col. (Dr.) Stephen Galvin, emergency medicine flight commander.
Just as they are in U.S. hospitals, advancements in medicine are made at CJTH every day.
The colonel explained that medical advances made in the warzone are shared with the civilian world and vice-versa which helps the medical staff improve treatment and best move patients through the medical process, so the patient can get back to health.
"We are learning new methods, such as how to faster spread antibiotic beads, which we plan to submit as an Air Force Best Practice," said Tech. Sgt. Robert Wick, a CJTH operating room orthopedic technician deployed from Wilford Hall Medical Center at Lackland AFB, Texas.
These advancements benefit more than just patients from Bagram, but from forward operating bases across Afghanistan.
"Once a patient gets here, they have a 95 percent survival rate," said Colonel Galvin, who is deployed from Joint Base Elmendorf-Richardson, Alaska. "These are some of the severest injuries and sickest patients you will ever see, but it is their resiliency that amazes me," he continued. "It's amazing what the human body can survive."
In addition to medical advancements, transformations are also happening with people.

"The morale in our unit is so high, we truly have the wingman concept because we all put our personal views aside to do the same job," said Sergeant Wick. "I have even seen Airmen who were not doing so well at their home station, become our star Airmen. This place changes people."
Master Sgt. Bonnie McKusick, emergency medicine flight chief, deployed from Langley AFB, Va. agreed, "I've been a medic in the Air Force for 18 years, and I have never been able to see what I see here. Here you get a better perspective that this really is war.
"It's sad, but I know that I help them have the confidence to do their jobs because they know that I will be there to help them," she continued. "To me I have the greatest job."

While Sergeant McKusick is on her third deployment, Senior Airman Diana Plazas Ospina is on her first.
"This has been such a huge transition for me. When I was back home I worked in a clinic doing mostly paperwork, but I have learned so much," said Airman Plazas Ospina, who is deployed from MacDill AFB, Fla. "I feel honored and proud because not many people in my position get the chance to do what I do."
As is true for most deployments, the deployed job has unique challenges that aren't faced at home stations. For medical staff at CJTH, these challenges come from the type of trauma seen along with the austere working environment.
"Working at Wilford Hall is more predictable," said Sergeant Wick. "Working at CJTH is a real eye opener, but the best part is that you get to think on your feet. I've found that the surgeons are more likely to listen to you when you have an idea too."
"It's not like you can call a local hospital to borrow a piece of equipment, so when we lack something we would have at home, we always figure out another way to get it done," said Sergeant Elmandorf, deployed here from the U.S. Air Force Academy.
In addition to serving U.S. and coalition servicemembers, the CJTH also helps local Afghanistan citizens.
"We treat everyone as humans, because that is the American way," said Sergeant McKusick.
Both Sergeants Wick and Elmandorf recalled a recent case where they had to treat not only a injured U.S. soldier, but the prisoner who shot him.
"When a comrade comes in, it strikes a chord, but add their assailant in the mix and it's a new dynamic" said Sergeant Wick. "We had to put ourselves in the right frame of mind, but I know that leaving here there will be no regrets because helping someone gives a great sense of reward.