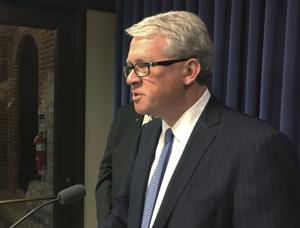 (The Center Square) – Republican House Leader Jim Durkin called for legislative hearings after the Illinois Department of Children and Family Services left two children in psychiatric care for months after being cleared to be placed with families.
Durkin requested the hearings in a letter to committee leader state Rep. Camille Lily. It comes after DCFS director Marc Smith was held in contempt by a Cook County judge after the department left two children in psychiatric care for months after the children were cleared to be placed with families.
In his letter, Durkin called for action. He also called the situation "heartbreaking."
"It is tasked with protecting the state's most vulnerable residents, a mission both Republicans and Democrats can agree is essential to the state," Durkin wrote in his letter. "That is why it is so heartbreaking to see that DCFS Director Marc Smith is being held in contempt of court for failing to do his job."
The court decision is one of many incidents the department has had in recent years, in 2019 the Child Welfare Agency reported 123 children died that year even after being in contact with the DCFS.
Earlier this month, DCFS worker Diedre Silas was attacked and later died while making a house visit near Springfield, Silas was the second DCFS worker to be killed in the last 5 years while working.
"Unfortunately, these are not isolated incidents." Durkin wrote. "Under the Pritzker administration, more than 350 children have been left to languish in psychiatric care despite having been cleared to move on to a family setting."
Committee member and state Rep. Charles Meier called for leadership to be taken within the department.
"DCFS has had so many workers quit because they do not feel safe going into homes," Meier said. "From top to bottom, somebody needs to take the leadership in the administration."