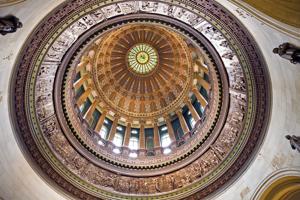 Lawmakers return to Springfield for one day
Illinois Legislators are back in Springfield for today only.
Lawmakers had Tuesday, Wednesday and Thursday scheduled for the start of the spring session, but leaders canceled Tuesday and Thursday out of concerns of high COVID cases.
It's expected they'll extend the ability to take actions remotely and then adjourn. It's unclear if they'll be back in-person next week.
CTU votes to shift to remote learning, CPS cancels classes for day
Chicago Public School teachers voted in their union to go to remote learning.
That means no classes for about 300,000 students in Chicago. It's unclear what happens next, but the district promised to update families by the end of the day.
Meanwhile, in Springfield, the school district plans to return on their scheduled return date Jan. 10.
Hearing on TRO continues today
A hearing on a temporary restraining order more than 700 parents of school children have brought against around 140 districts continues in Springfield.
Parents are challenging mask and exclusion mandates.
A Sangamon County judge is hearing arguments in the case.
Earlier this week the judge heard arguments in a separate case of dozens of school staff suing 22 districts over vaccine and mask mandates.
CDC quarantine guidance won't apply to Illinois schools
The latest CDC quarantine guidance shortening isolation time from ten to five days won't apply to Illinois schools.
The Illinois State Board of Education said they're following guidance for schools from the Illinois Department of Public Health.
Schools can utilize a test-to-stay policy that allows a student who was in contact with a positive case to avoid a quarantine as long as they are asymptomatic.
Milhiser announces for GOP's Secretary of State nomination
There's another Republican vying for the party's Secretary of State nomination.
Former U.S. Attorney for the Central District of Illinois John Milhiser announced his candidacy Tuesday.
His campaign said with a culture of corruption in Illinois, Milhiser will bring a zero-tolerance approach to serve taxpayers.
He joins state Rep. Dan Brady and Chicago media personality William Kelly in the field. Petitions for primary ballot access start circulating next Thursday.
Funeral services for Bradley police officer set for Friday
Funeral services will be held Friday for a Bradley police officer killed in the line of duty.
Sgt. Marlene Rittmanic was killed while responding to a noise complaint at a motel on Dec. 30. Another officer was shot and is in critical condition.
Two suspects were later taken into custody.
Rittmanic was awarded Law Enforcement Officer of the Year in 2020.