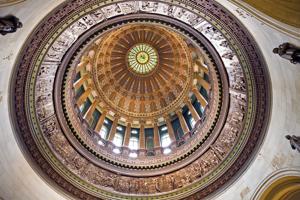 Pritzker to give update on omicron variant
Governor J.B. Pritzker is scheduled to give a COVID-19 update Monday, addressing the omicron variant that has been spreading across Illinois and the rest of the country.
The governor is also expected to announce the expansion of vaccination clinics in Illinois.
This follows a meeting of the country's governors with President Joe Biden on the pandemic.
SIU plans to test for COVID-19 rather than start remotely
Officials at Southern Illinois University said they plan to test for COVID-19 rather than begin the spring semester remotely.
The Southern Illinoisan reports students, faculty and staff have been told they must complete a test within 48 hours of returning to campus, including those who are fully vaccinated.
Classes are set to begin on January 10.
Capitol display draws controversy
A Satanic display in the Illinois Capitol is drawing controversy.
The Satanic Temple Illinois installed a statue of Baphomet, a goat-like Satanic deity, depicted as a baby.
A group of Republican lawmakers condemned the display, calling it "deliberately offensive" and called for it to be removed.
Attorney General updates Benefits for Illinois Veterans Guide
The Benefits for Illinois Veterans Guide from the Illinois Attorney General's Office has been updated.
The guide, available at IllinoisAttorneyGeneral.gov provides veterans and their families with information regarding both federal and state veteran benefits and the laws around those benefits.
Updates this year include details about benefits for veterans of Iraq and Afghanistan who may have been exposed to burn pit smoke or depleted uranium.
IDA hosting training, workshops
Interested in being a Certified Livestock Manager?
The Illinois Department of Agriculture and the University of Illinois Extension is hosting training and testing workshops through January and February.
Details are available at Go.Illinois.edu/CLMT.