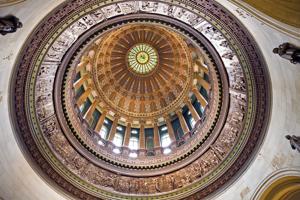 State roads among most expensive in nation, report finds
With the federal infrastructure bill set to send Illinois at least $17 billion for roads, bridges and transit projects, Illinoisans can expect to pay more for less.
The Reason Foundation's 26th annual Highway Performance and Cost-Effectiveness report is out and Illinois taxpayers spend $123,500 per state-controlled mile of highway, ranking 39th for total spending per mile.
Overall, Illinois has dropped 12 spots in the past five years to 40th.
Secretary of State to require appointments for some driver matters
You'll soon have to set up an appointment to address some issues at a driver services facility near you.
Illinois Secretary of State Jesse White's office said the requirement for larger downstate and central Illinois facilities will cover driver's license, REAL IDs and ID cards.
Renewing license plate stickers or vehicle titles won't require appointments. Masks are still required indoors.
Instant lottery games go online
Instant online gambling has come to Illinois.
While the state has for years allowed people to buy lottery tickets online, and recently enacted online sports betting, those results are not instant.
This week, the Illinois Lottery started selling a variety of digital games customers can choose to play instantly. Tickets range from $1 to $10 per ticket.
No schools change recognition status
Under new rules, no K-12 schools in Illinois have had their recognition status changed by the Illinois State Board of Education for not complying with COVID-19 mandates.
But, that could change with the agency saying they will investigate districts that don't comply.
Vandalia Community Unit School District #203 earlier this week voted to make masks optional starting Dec. 6.
School board votes to terminate teachers over vaccine, test mandate
Earlier this week in Springfield, the local school board voted to terminate music teacher Kingsley Keys who has refused to show vaccine status or test weekly per Gov. J.B. Pritzker's mandate.
A spokesperson for the Illinois State Board of Education said it does not track how many teachers have been terminated statewide for not complying, but the board will investigate schools that don't enforce the mandates.
Normal Community High School gets top spot in contest
Normal Community High School took the top spot for the best pork and pigskin state championship.
The inaugural competition from the IHSA and the Illinois Pork Producers Association judged concession stand pork chop sandwiches from throughout the state.