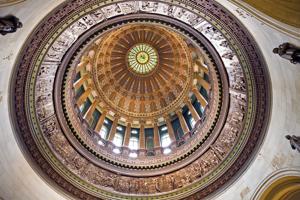 State Board of Elections dismisses Mautino campaign finance case
The Illinois State Board of Elections has dismissed the campaign finance violation case against Auditor General Frank Mautino.
The charges brought by citizen David Cooke in 2016 said Mautino, when he was a state Representative, illegally reimbursed campaign workers for gas, not mileage, among other issues.
The Illinois Supreme Court found a violation, but had the state elections board consider if it was "knowing." The board Tuesday found Mautino was not "knowing" it was a violation.
Cooke questions where the U.S. Attorney is on the case.
Pritzker signs tax incentives for electric vehicle manufacturers
The electric vehicle industry is getting a jolt of tax incentives with a new law enacted by Gov. J.B. Pritzker.
The bipartisan legislation gives a slew of tax carve-outs, including allowing local governments the ability to abate property taxes.
While supporting the measure, members of both parties raised concerns about the carve-outs impacting other industries and other taxpayers not eligible for the exemptions.
Wirepoints to hold live forum for GOP candidates
Illinois-based research and public policy group Wirepoints is hosting a Facebook live forum with the Republican gubernatorial candidates today.
The discussion focuses on Wirepoints' research showing public sector retirement debts now total $530 billion with the average household on the hook for $110,000 to cover such debt.
Details of the report and today's forum are available at Wirepoints.org.
Illinois get poor marks for financial transparency
Illinois is the fifth-least transparent state in the nation, scoring 56 out of 100 for financial transparency, according to Truth In Accounting.
The public finance watchdog group evaluates all 50 states on a variety of fiscal issues impacting taxpayers.
For transparency, the group says Illinois could improve by being more timely with financial reports. Colorado scored the lowest overall transparency score of 46. Utah scored the highest at 88.
Sports betting reports gains
Sports betting in Illinois roared back to life in September after a pedestrian summer and pushed the nationwide handle past $5 billion for the month.
It is the first time in history the country has reached that number.
Illinois sportsbooks reported just over $596 million in handle, good for the second-best month ever behind last March.
IDOT announces updated website for monitoring road conditions throughout Illinois
With winter weather comes difficult driving conditions and drivers in Illinois wanting a heads up can find a redesigned GettingAroundIllinois.com website.
The real-time online tool operated by the Illinois Department of Transportation has been updated to show how weather events are impacting roads across the state and are optimized for use on smartphones.
###