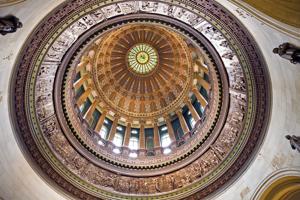 Pritzker speaks at Center For Climate and Energy Solutions roundtable
Gov. J.B. Pritzker and other elected state officials continue their overseas trip promoting Illinois' 'green energy' economy.
The governor delivered a keynote address to the Center For Climate and Energy Solutions roundtable.
This morning, local time, Pritzker joined Hawaii Gov. David Ige, Oregon Gov. Kate Brown and Washington Gov. Jay Inslee in Glasgow to discuss what they think are the actions to take for net-zero carbon emissions.
Panel of judges to hear legislative map challenge next month
The challenges against Illinois' new maps for state House and Senate seats will be heard next month.
A panel of federal judges is looking for input from the plaintiffs in the case. Those plaintiffs are Republican legislative leaders, the Mexican American Legal Defense and Educational Fund and the NAACP.
State Rep. Tim Butler said it's important the issue is sorted before the filing period for the June primary begins Jan. 13.
Cook County brings back taxes for guns, ammo after Illinois Supreme Court ruling
Taxes are back on for guns and ammo in Cook County, despite the Illinois Supreme Court ruling the previous tax structure was unconstitutional.
The Chicago Tribune reported county commissioners approved an amendment that all the revenue from the tax must go toward violence prevention programs. Prior to the ruling, the money went to the county's public safety fund.
COVID-19 metrics increase in Illinois
After weeks of declines in COVID-19 cases, state public health officials say there were around 2,800 more positive cases last week than the week before, for a total of 17,462.
The state's positivity rate increased from 1.8% to 2.1%. But, ICU beds taken up by COVID-19 patients remain lower than the week before.
Daylight saving time is here, though some want to change it
Tired of changing the clocks twice a year because of daylight saving time?
At least seven bills have been introduced in the Illinois General Assembly to change that.
Each would either make it permanent in Illinois or make the state exempt from the federal Uniform Time Act.
Under federal law, states must receive congressional approval to adopt year-round daylight saving time. Meanwhile, officials say it's a good time to inspect smoke detectors.
Court-appointment prison monitor finds inmate health care access lacking
An independent court monitor recently found a lack of mental health care access in Illinois prisons found unconstitutional five years earlier.
Over 42% of prisoners have a mental illness but they aren't receiving adequate care.
Areas of failure found in the first ruling included lack of staff and treatment plans and evaluations.
###