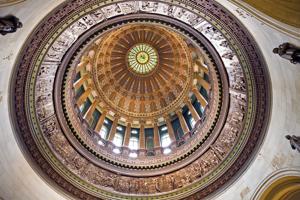 Pritzker says any school vaccination mandate must go through legislature
Whether school kids in Illinois schools would be required to get the COVID-19 vaccine to attend class will be up to the state legislature.
That's according to Gov. J.B. Pritzker.
After getting his booster shot Tuesday, the governor also said whether the mask mandate is allowed to expire depends on the continued review of hospitalizations around the state.
CCL board members ask lawmakers to compel objectors to provide better information
The board overseeing objections to concealed carry license applications in Illinois is providing more insight into why some delays persist.
During a Senate Executive Appointments Committee last week, Concealed Carry Licensing Review Board members said the delays stem from law enforcement agencies objecting to applications not providing enough information.
They urged lawmakers to get the agencies to provide better data when filing objections. Average delays exceed the time allotted by law.
Website says Illinois is best state for pet-owning renters
Illinois is the best state for renters with pets. That's according to the website AllAboutCats.com.
Their research shows Illinois is the best state for pet-friendly renting, with nearly 59.9% of the state's rental properties allowing pets.
The worst state for renters with bets is Hawaii with only 6% of properties allowing pets.
Masks mandate returns for Hillsboro schools
Starting today, masks are required again in Hillsboro schools.
A Montgomery County judge Tuesday dissolved a temporary restraining order that prohibited the district from enforcing masks to prevent the spread of COVID-19 without a court-ordered quarantine.
The school's superintendent said mandating masks again allows them to reimplement Test to Stay policies.
Cannabis sales up from last month
October cannabis sales are up from the month before, thanks to out-of-state buyers. Out-of-state sales peaked in July at $42.3 million, driven partly by Lollapalooza in Chicago.
But total sales slumped in August and September.
October sales reported Tuesday totaled $123.4 million, the highest since July. In-state sales for October decreased slightly. But out-of-state sales increased more than $2.1 million for a total of $42.2 million.
Bloomington police have questions about pot pumpkin owner
Bloomington police are looking for a trick-or-treater who lost some of his treats over the holiday weekend.
A Facebook post from the department indicates someone lost a pumpkin bucket full of marijuana.
Police confiscated the bucket containing 383 grams of marijuana after a resident found it. Police are asking the owner to come forward to be reunited with the stash, which is 10 times the legal amount to possess.