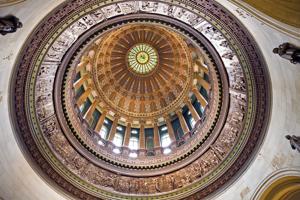 DeVore plans to sue governor for defamation
After being called a "grifter" by Gov. J.B. Pritzker, attorney Thomas DeVore said he has hired an attorney and will sue the governor for defamation.
Pritzker made the comments in reaction to the case DeVore brought on behalf of hundreds of parents suing the governor and 145 schools for violating due process in enforcing COVID-19 mask and quarantine mandates.
Gun, ammo taxes unconstitutional in Cook County
Taxes on guns and ammo in Cook County are unconstitutional.
The Illinois Supreme Court ruled 6-0 with one abstaining this week to toss the county's tax on guns and ammo.
The $25 per firearm and tax on each round of centerfire and rimfire ammunition was challenged by the non-profit Guns Save Life group.
African snake found in Illinois
A snake native to Africa has been removed from an Illinois nature preserve after a visitor found the reptile coiled underneath her car.
The ball python was removed from the Herrick Lake Forest Preserve in Wheaton after a woman noticed the reptile and called the police.
Police said it isn't the first time they had to remove a snake at the preserve, and want to remind people it is illegal to release pets and wildlife into Illinois forest preserves.
Unemployment rate in Illinois remains higher than national average
Illinois' unemployment rate of 6.8% is two points higher than the national average.
The Illinois Department of Employment Security reports the largest gains in Illinois last month were 5,500 jobs in leisure and hospitality. Manufacturing saw the largest decline in jobs, losing 2,800.
The U.S. Department of Labor shows another 7,000 people filed for initial claims last week, around 100 more than the week before
ISBE to submit rule on school district discipline
After several private schools had their recognition status restored by the courts saying the state was treating them differently than public schools, the Illinois State Board of Education will now submit a rule on how to discipline districts that don't comply with Gov. J.B. Pritzker's mask mandate.
Last month ISBE told the Joint Committee on Administrative Rules it had no intention of filing rules.
This week the agency said it will file rules in the coming days.
Illinoisans participate in Great Shakeout Earthquake Drill 
More than a quarter-million Illinoisans took part in the 2021 Great Shakeout Earthquake Drill Thursday.
The Illinois Department of Emergency Management says there were more than 30,000 additional residents that took part in this year's drill than last year's drill.
IEMA encourages people to be prepared with two weeks of survival supplies, should a large disaster occur.