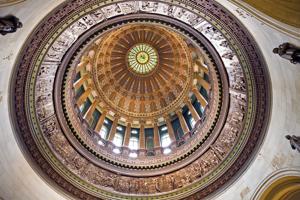 House could vote on bill to allow prison inmates to vote
A state Representative expects the Illinois House to advance a measure to allow convicted criminals serving prison time the ability to cast absentee ballots in elections.
Democratic state Rep. LaShawn Ford said the measure would ensure that every citizen, despite being incarcerated, gets a voice in elections.
Republican state Sen. Darren Bailey criticized the idea, saying criminals lose their rights when they're convicted.
Parental notification bill could surface in veto session
Another measure that could come up during the fall veto session of the Illinois Legislature is repealing the state's requirement that parents be notified if their minor daughter is getting an abortion.
Supporters say it's important to give minor victims of incest that autonomy.
Women in the Senate Republican caucus plan a news conference this afternoon opposing the move.
Pritzker promotes COVID-19 booster shots for those eligible
Gov. J.B. Pritzker is promoting the COVID-19 booster shot for the state's aging population.
During a news conference in Chicago on Tuesday morning, the governor said he expects anyone over 65 and older or those with certain conditions should get a booster shot of the Moderna vaccine.
Boosters for the same group have already been approved for the Pfizer vaccine.
Another union agrees to vaccine mandate
While COVID-19 vaccine mandate negotiations are ongoing with AFSCME, the state's largest state employee union, Gov. J.B. Pritzker says he's secured more agreements covering more workers.
The Pritzker administration says it now has a total of four agreements with unions requiring nearly 2,000 public employees to get vaccinated by Oct. 26.
There are medical and religious exemptions.
Pritzker announces $1.2 billion interstate improvement plan
The Pritzker administration has announced a six-year plan costing taxpayers $1.2 billion to improve a busy interstate corridor.
The I-80 Corridor Improvement Project will utilize tax increases from the Rebuild Illinois program approved in 2019 that doubled the state's gas tax and increased other fees on drivers.
Illinois officials mourn death of Colin Powell
Illinois elected officials from both sides of the aisle are remembering General Colin Powell, whose family announced Monday he died from COVID-19 complications.
The former secretary of state was fully vaccinated. House Minority Leader Jim Durkin said Powell worked for the American people regardless of political affiliation.
Lt. Governor Juliana Stratton said the 84-year-old's legacy highlights what it means to strive for the American Dream.