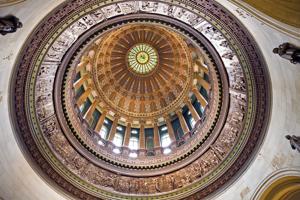 Lawmaker return to Springfield this week
The Illinois General Assembly returns to Springfield this week for the fall veto session.
They're expected to take up new congressional maps. Democrats revealed their proposed maps that show the state losing one seat in congress, going from 18 to 17 seats.
Republicans say the maps are gerrymandered and various groups criticized the process led by majority statehouse Democrats.
Illinois FOP puts lawmakers on notice for HCRCA
The Illinois Fraternal Order of Police says they are putting lawmakers on notice not to change the Health Care Right of Conscience Act during the veto session.
Lawmakers return for three days this week and next week and FOP President Chris Southwood said they'll be lobbying against any possible changes the governor's office has indicated they're looking for to enforce COVID-19 vaccine mandates.
Illinois Republicans push for more law enforcement tools
Illinois statehouse Republicans continue to push for a package of bills they say will give law enforcement more tools to combat crime.
House Minority Leader Jim Durkin and Republican state Sen. John Curran joined various members from the law enforcement community to highlight bills they say Democrats should call for votes over the next two weeks of veto session.
Illinois man pleads guilty to stealing from charity
An Illinois man who pleaded guilty to stealing $831,000 from a charity he ran for kids with disabilities is going to prison.
45-year-old Stuart Nitzkin of Deerfield was sentenced to 3.5 years in federal prison after he admitted spending the money on luxury vacations, golf outings and NBA tickets.
Beginning in 2011, Nitzkin submitted bogus invoices and receipts to finance his expensive lifestyle while he worked as executive director of American Friends of the Israel Sport Center for the Disabled.
Utility announces funding for small businesses, nonprofits behind on electric bills
Ameren Illinois has announced funding is available for small businesses and nonprofits that have fallen behind on their electric bills.
Under the company's COVID-19 Economic Hardship Recovery Program, one-time grants of up to $500 will be provided on a first-come, first-serve basis until October 31, or until the funds run out.
IDPH issues guidance for Halloween
The Illinois Department of Public Health has issued updated COVID-19 guidance to help people celebrate Halloween and other fall activities more safely.
IDPH is reminding people that masks are currently required for all indoor public locations in Illinois.
Health officials said a costume mask is not a substitute for a well-fitting face mask to prevent the spread of the virus.
They also said open-air haunted houses are safer than enclosed haunted houses.