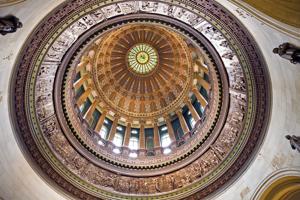 Vaccine mandate for Chicago Police takes effect Friday
There could be a shortage of police officers in the Windy City this weekend as the battle rages on between police unions and the city of Chicago over a vaccination mandate.
The Fraternal Order of Police is promising legal action to block Mayor Lori Lightfoot's COVID-19 vaccine mandate, which is set to take effect Friday.
The mayor said the citywide mandate is about keeping workers healthy.
Inspector General faults Danville nursing homes on VA campus
According to a report from the Veterans Affairs inspector general, the Danville VA failed to minimize the risk and spread of a COVID-19 outbreak.
In the fall of 2020, two nursing homes on the Danville VA campus had a COVID-19 outbreak.
Nearly 240 patients and 92 staff members tested positive and 11 people died. The inspector general received complaints the facilities were not observing infection control, such as proper use of PPE.
Jumping worms expand throughout Illinois
Jumping worms have been expanding their territories in Illinois, threatening to absorb the nutrients that plants need to grow.
The worms live in the top few inches of soil, leaves or mulch and eat all the nutrients so quickly that plants do not have a chance to absorb any.
Jumping worms have been found from northern Illinois all the way to the southern tip of the state.
Two sent to the hospital after shooting outside school
A female student and a security guard were seriously wounded in a shooting Tuesday afternoon outside a Chicago high school.
According to the Chicago Fire Department, the 14-year-old girl and the 45-year old guard were shot outside Wendell Phillips Academy High School.
The two were transported to separate hospitals in serious condition.
FBI, police offer reward for information in SIU shooting death
A reward of $15,000 is being offered for information that leads to the arrest and conviction of those involved in the shooting death of a Southern Illinois University student.
The FBI Springfield Division is offering a $10,000 reward and Carbondale Police is offering $5,000 in connection with the August murder of Keeshanna Jackson.
Jackson was attending a party in Carbondale when shots rang out. Police found Jackson in the yard with a gunshot wound.
State breaks ground on Springfield transportation hub
The state of Illinois has broken ground on a new $86 million Hub Transportation Center in Springfield.
The facility will serve as the new multimodel operating base for Amtrak and the Sangamon Mass Transit District bus system.
Officials said once completed, the station will ease congestion between Chicago, Springfield and St. Louis and stimulate economic growth.