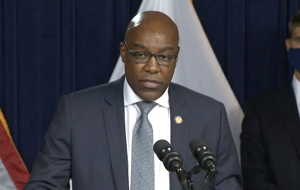 (The Center Square) – The COVID-19 pandemic caused children in Illinois to spend a lot of time online and now law enforcement officials report an increase in cases of child exploitation.
In 2018, Illinois State Police investigated 9 leads of child exploitation and made 1 arrest. In 2020, 99 leads resulted in 24 arrests.
On Monday, Illinois Attorney General Kwame Raoul announced new initiatives underway by the Internet Crimes Against Children Task Force. The task force will be managed by the Attorney General's office and offer a series of webinars to help families keep kids safe while they are online.
"The threat is out there, and with our children's increasing use of the internet for education, entertainment and social interaction, it is growing," Raoul said.
The online safety webinars will teach parents, among other things, how to identify signs that a child may have been a victim of online child solicitation, and help explain the apps children and teens may be using.
"As a father of a teenager, I understand the ever-changing apps, many of them encrypted, that make it so difficult to be a parent or guardian to protect our children," Sangamon County State's Attorney Dan Wright said.
The free online training sessions begin Oct. 7 and are set for the first Thursday of each month.
The ICAC Task Force is run by the Attorney General's office with a grant from the U.S. Department of Justice. It will receive CyberTips, or online reports of child pornography from the National Center for Missing and Exploited Children.
According to the Attorney General's office, it is projected that reports to the task force during this year will increase 23% over 2020 due to increased reporting and awareness by social media platforms and apps.
"I am encouraging families and educators to take an active role in digital safety," Raoul said. "Protecting children and helping them foster healthy interactions online requires a collaboration involving parents and guardians, educators and law enforcement."