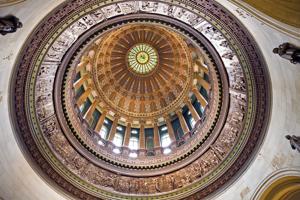 Report: Taxpayer burden in Illinois nearly doubles in 12 years
Illinois taxpayers are on the hook for nearly double state government debt than they were 12 years ago.
Truth In Accounting's latest Financial State of the States published Tuesday shows if all state government bills come due now, each taxpayer would owe $57,000.
That's nearly double the $30,000 each taxpayer owed in 2009.
Illinois lagging in home equity gains
Illinois homeowners are not enjoying the same home equity gains seen around the rest of the country.
CoreLogic released its Homeowners Equity Report for the second quarter of 2021 showing U.S. homeowners saw equity increase by 29.3% year over year, with an average gain of $51,500 per borrower since the second quarter of 2020.
In Illinois, the average gain in home equity is $24,000.
Obama in Chicago for presidential center event
Former President Barack Obama will attend an official groundbreaking of his presidential center in Chicago.
He'll be joined at the Jackson Park event this afternoon by former First Lady Michelle Obama, Gov. J.B. Pritzker and Chicago Mayor Lori Lightfoot.
Obama defended the project on ABC from those worried it will change the character of the area, saying people are always critical of change but they've taken input from the community.
State's financial condition worst in region
Illinois' financial condition is the worst in the region, but Kentucky isn't far behind. Iowa is the only Midwest state with a taxpayer surplus.
Truth In Accounting's Financial State of the States report released Tuesday shows Illinois is ranked No 48. Kentucky is No. 44. Missouri is No. 24.
From there, Wisconsin is ranked No. 17, and Indiana at No. 13, both carry some taxpayer burden.
Iowa is ranked No. 9 and has a per-taxpayer surplus of $2,000.
New fraud protections online at Illinois Department of Employment Security
Those seeking unemployment benefits in Illinois will have a new identity verification platform utilizing multi-factor authentication.
The Illinois Department of Employment Security said the system called ILogin (I-Login) starts this week.
Previous claimants must use the new system the department said is a more secure process to access benefit accounts. Despite earlier this year saying it stopped 1.7 million fraudulent claims, the department still can't say how much unemployment fraud it paid out during the pandemic.
State Education Board seeks input
Want to tell the Illinois State Board of Education how to spend tax dollars for public education?
They're taking your comments by writing starting next week.
ISBE said three hearings are scheduled in October with details at ISBE.net/budget.