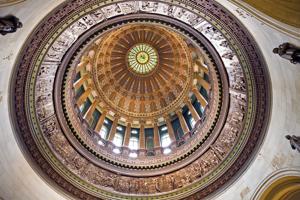 Lawmakers could take up bills Pritzker kicked back
With Illinois lawmakers returning to the state capital, they could take up bills Gov. J.B. Pritzker kicked back.
On Friday, the governor vetoed a bill allowing certain ambulance services to be covered.
The Illinois State Ambulance Association said the measure passed unanimously and it's pushing for an override.
The governor also sent suggested changes to an ethics package.
Judge rescinds order barring mother from seeing son because of vaccination status in custody case
An Illinois judge who barred a divorced mother from seeing her 11-year-old son because she isn't vaccinated against COVID-19 has rescinded the order.
Rebecca Firlit's lawyer said the judge, not her ex-husband, raised the issue during a recent child support hearing.
Firlit says she has had adverse reactions to vaccinations and that her doctor advised her not to get a COVID-19 shot.
Two East St. Louis men face federal charges after security guard killed in bank robbery
Federal charges have been filed against two men for robbing a bank and killing a security guard in East St. Louis on Friday.
Federal prosecutors announced charges against 22-year-old Jaylan Quinn and 19-year-old Andrew Brinkley, both of East. St. Louis.
Quinn is facing life in prison or possibly the death penalty for fatally shooting the bank's security guard in the head.