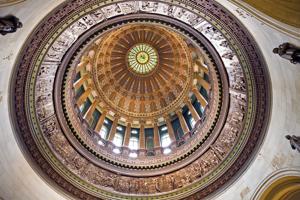 Parents sue over alleged football hazing ritual
A lawsuit has been filed by the parents of two former Plainfield football players after they were allegedly assaulted during a violent hazing ritual in 2019.
According to the lawsuit, the two students were pinned on the floor of a locker room and assaulted by varsity football players in a hazing ritual known as "Code Blue."
The plaintiffs contend coaches knew about the hazing ritual and failed to stop it.
Pritzker signs bill into law to great local journalism task force
Starting Jan. 1, a new state task force will study the status of journalism and make recommendations for improvement to the Illinois General Assembly.
In announcing the enactment of Senate Bill 134, Gov. J.B. Pritzker said there are "news deserts" across the country and the task force will seek to maintain and grow a strong press corps in Illinois.
A report will be due on Jan. 1, 2023.
IHSA establishes esports tournament
Playing video games may pay off for your kids as the Illinois High School Association announces its first-ever esports State Series.
The inaugural tournament set for April next year will include NBA2K, Rocket League and Super Smash Brothers.
The series is the 10th IHSA has. Others include bass fishing, chess, debate, drama, speech, journalism, music and scholastic bowl.
Hearings set for revising legislative maps in Illinois
Hearings are set for revising Illinois' legislative maps.
Hearings are scheduled for Thursday, Friday, Saturday and Sunday. Lawmakers return Aug. 31. Gov. J.B. Pritzker contends the Democratic majority met the constitutional requirements when members passed and enacted the maps before the June 30 deadline.
Republicans are challenging the maps in court and demanding a bipartisan commission take over per the state constitution.
State puts 51 schools on probation for failing to follow mask mandate
The state has put at least 51 school districts on probation for not following Gov. J.B. Pritzker's mask mandate.
Punishments can include loss of recognition by the state board of education and losing the ability to compete in athletics.
Schools have a chance to submit a corrective plan to the regional superintendent of schools and state superintendent.
State lawmaker launches policy podcast
A state lawmaker has launched a new radio show and podcast.
Plainfield Republican state Rep. Mark Batinick's "Policy Nuance" program will air Wednesday at noon on WJOL.
He said in a statement the issues deserve more than talking points, emails and tweets.
The first show will be about COVID-19 and masks in schools.