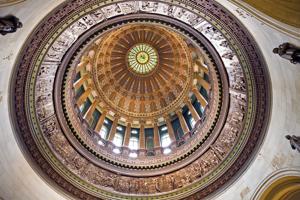 Garland to visit Chicago after mass shootings
U.S. Attorney General Merrick Garland is coming to Chicago today to address the violent crime plaguing the city.
At least eight people were shot last night in what was the third mass shooting for the city in a six-hour span.
The Department of Justice is set to formally launch its gun trafficking strike force initiative.
The strike force is an effort aimed at cracking down on stolen and illegally purchased firearms as officials see as one of the primary drivers fueling the surge in gun violence.
More than 25,000 people file for unemployment
The U.S. Department of Labor estimates just over 25,000 new unemployment claims were filed during the week of July 12 in Illinois.
That is about 3,000 more than the week before.
The state's estimated claims are among 419,000 total claims filed across the country last week.
Davis announces bipartisan group to address spent nuclear fuel storage
U.S. Representative Rodney Davis of Taylorville has announced the formation of a Spent Nuclear Fuel Solutions Caucus, a bipartisan group of House members who will address the storage, transportation and disposal of spent nuclear fuel across the country.
There are around 80 locations in 34 states across the country, including the Clinton Power Station in DeWitt County, where fuel is stored after it is removed from a nuclear reactor.
Former superintendent heads to prison
A former superintendent of two central Illinois school districts has been sentenced to 33 months in federal prison after he admitted to embezzling from the districts over several years.
Daniel Brue, 48, was also ordered to repay $343,000 of the money to both school districts that was taken between 2011 and 2019.
Meat processor moving 475 jobs from Illinois to Missouri
An Illinois meat processor is planning to leave the state and relocate over the river in St. Louis, Missouri.
The St. Louis Post-Dispatch reports Deli Star Corporation of Fayetteville, Illinois, is renovating a 100,000 square foot facility and will begin production next year.
Deli Star's headquarters had been located in Fayetteville for 35 years until a January fire destroyed its production facilities.
Illinois Congressmen agree more UFO research needed
Members of Illinois' congressional delegation don't know what's out there, but they know it needs to be researched and understood for security reasons.
Last month, the Office of the Director of National Intelligence released an assessment of what they called Unidentified Ariel Phenomena, or UAPs.
Over the past 20 years, the National UFO Reporting Center shows nearly 4,000 unverified reports of unidentified flying objects in Illinois alone.