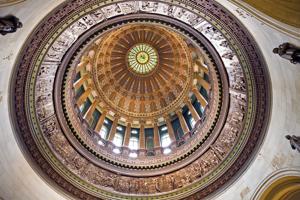 Next vaccine lottery drawing is Monday
Another drawing for Illinois' vaccine lottery is Monday.
Three people who are vaccinated will each get $100,000. The program is paid for from the state's share of federal COVID-19 relief tax dollars allocated for such activities.
A recent study from Boston University's School of Medicine found the vaccine lottery in Ohio was not successful at increasing vaccination rates.
Group calls for Pritzker to use amendatory veto 
A nonprofit government reform group says Gov. J.B. Pritzker should send a message that more ethics reforms are needed by returning a package of ethics reforms back to the legislature for changes.
After the resignation letter from the Legislative Inspector General over a lack of substantive reforms to better investigate wrongdoing, Reform For Illinois said if Pritzker is serious about bringing accountability to Springfield, "he should use his amendatory veto power to demand better for the people of Illinois."
New law bans cops from lying to kids
Illinois has become the first state to ban law enforcement officers from lying to juveniles during interrogations.
The law was part of a package of criminal justice reform measures put forth by the Illinois Legislative Black Caucus signed by Gov. J.B. Pritzker on Thursday.
Senate Bill 2122, which prohibits the use of deceptive tactics by all law enforcement when interrogating a minor, takes effect on Jan. 1, 2022.
Officials look to stem evictions
Because of concerns that the looming end to the governor's moratorium on evictions will lead to a flood of cases in Illinois' courts, the Illinois Supreme Court is allowing what they called a "triage period."
The order announced Thursday means certain newly filed eviction cases beginning Aug. 1 can't be acted upon until the final expiration of the moratorium on Aug. 31.
In that time, courts will guide landlords and tenants to programs designed to help avoid evictions.
Nearly 350,000 taxpayers will save on unemployment benefits
Nearly 350,000 eligible taxpayers in Illinois will save a combined $1.5 million in taxes on their unemployment benefits, according to the Pritzker administration.
The Illinois Department of Revenue has issued automatic refunds to eligible taxpayers in accordance with federal law retroactively making the first $10,200 of unemployment per individual tax-free.
Another round of cannabis licenses to be awarded
Another round of cannabis dispensary licenses going out in Illinois after more than a year of delays.
The state has announced three lotteries to distribute 185 licenses to operate cannabis dispensaries will be held in the coming weeks.
The Illinois State Lottery will conduct the three lotteries on July 29, Aug. 5 and Aug. 19.