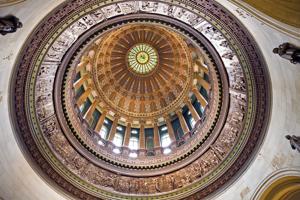 Teacher files lawsuit over education policy
A teacher in Evanston/Skokie School District 65 is suing over her employer's education policy, which she says is racist.
The Chicago Tribune reported middle school drama teacher Stacy Deemar claims the district is using teacher training sessions that segregate and denigrate white people, saying they're inherently racist and privileged.
She also alleged those policies are being passed along in lessons to school children. The district did not comment on the report.
Groups unite against Pritzker's energy agenda
Labor groups are raising alarms that their members that work in the energy sector fear for their future in Illinois.
The Illinois Pipe Trades Association joined business groups Thursday to express union members' fears that the industry they've worked in for generations is on the chopping block with an energy policy change being negotiated behind closed doors.
Lawmakers have yet to release legislation that could close coal-fired power plants by 2035, if not earlier, with aspirations to have 100 percent green energy by 2050.
Public safety officials call for safe holiday weekend
Want to stay independent? Drive sober.
That's the message from Illinois public safety officials for people to celebrate Independence Day responsibly.
Suggestions include having a designated driver, don't drive after consuming alcohol or marijuana or use taxis or ridesharing services.
State offices will be closed Monday for holiday
While Sunday is the actual Independence Day holiday, Monday is the observed holiday for governments across the state.
That means any business with services like those offered by the Secretary of State's office will be closed until Tuesday.
Illinoisans cross state borders to get fireworks
Most fireworks are still banned in Illinois.
Despite that, fireworks retailers in other states near Illinois' borders often report numerous Illinois license plates in their parking lots with customers picking up displays banned in Illinois.
A violation can be a Class 3 felony, with a maximum penalty of five years in prison and a $10,000 fine.
Gas tax increases driving cost for Illinois drivers
Drivers in Illinois filling up their gas tanks are paying more in taxes.
On Thursday, the state's gas tax went up for the third year in a row.
Each gallon of gas now comes with a 39.2 cent state tax per gallon, which is on top of the 18 cents per gallon federal gas tax. State and municipal sales tax can also be included, making Illinois one of the few states that include sales tax in addition to a state tax.