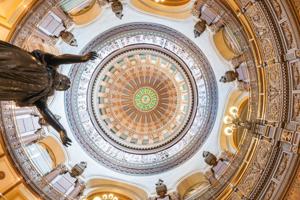 Illinois' incredible shrinking cities
It appears Illinois is losing the competition with other states to capture people and their wealth. The nonprofit group Wirepoints reviewed IRS domestic migration data from 2019 and found Illinois was the third-worst with a net loss of $6 billion and 82,000 people. Illinoisans who left the state made on average $92,000 a year, while people who moved here made $71,000 a year.
Lawmakers split on energy deal
State lawmakers can't agree on whether to come to a deal to prop up nuclear power plants while closing down coal-fired power plants. Last week, the chambers separately indicated they could be called back in the weeks ahead to take up an energy deal the governor says is being put in bill form, but Friday a bipartisan group of lawmakers pushed for nonprofit coal-fired plants to be exempt from the governor's 2035 timeline to shutdown.
They're not in but they're not not in.
While they're not in session, state lawmakers have a few hearings scheduled this week. The Illinois Senate Tourism Committee plans a hearing Thursday at the Buckminster Fuller Dome in Edwardsville to focus on tourism in downstate Illinois. The Statue and Monument Review Task Force meets Wednesday in Chicago with a virtual component to continue work in reviewing the state's statues and monuments.
Same state, new map
Without complete Census data, partisan-drawn legislative maps are now law for the next ten years in Illinois. It's possible there could be adjustments. It's also possible there could be lawsuits. Gov. J.B. Pritzker signed House Bill 2777 Friday. Earlier in the week last week, Pritzker said there could be adjustments made when all the Census data is out. That's not expected until sometime this summer.
Not map happy
Republicans and some advocacy groups criticized Gov. J.B. Pritzker for signing maps based on imprecise data. House Minority Leader Jim Durkin said Pritzker sold out and lied to Illinois that he would veto partisan-drawn maps. Change Illinois, a group that urged for an independent commission to draw maps, said the partisan-drawn maps erases nearly 42,000 Illinoisans because it's based on inaccurate data, and they're assessing all options, including litigation.
The Final Countdown
It's a full reopening for Illinois in a couple of days, but Gov. J.B. Pritzker said masks will still be recommended in certain situations like inside schools or for those who are not vaccinated against COVID-19. Pritzker on Friday announced his guidelines for Phase 5, saying all sectors can fully reopen. While he's lifting his outdoor mask requirement for schools, masks will still be required inside schools, and also inside daycares, on public transportation and in health care settings.