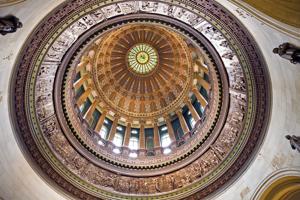 Lawmakers look to reach energy deal
Lawmakers could return to Springfield soon to tackle an energy deal Gov. J.B. Pritzker said is being put into bill form to keep nuclear plants open.
Details are sparse, including how much in subsidies the nuclear energy industry will get. However, there's growing concern from coal-fired power plants, including municipally-owned utilities.
They're pushing to be exempted from premature closures Pritzker is looking for he said is necessary to "fight climate change."
Lawmakers agree to one pension change
While the state grapples with what some estimate is a $300 billion unfunded pension liability, one measure headed to the governor soon carves out the Chicago Park District.
State Rep. Kelly Burke's bill creates a Tier III employee for the district, requiring new hires to pay 11 percent instead of 9 percent to the funds.
Republican state Rep. Martin McLaughlin supported the measure, but urged legislative leaders to tackle the pension crisis on all levels of government.
Davis says he concerned by contents of Fauci emails
Taylorville Republican U.S. Rep. Rodney Davis says he's concerned after reviewing emails released of conversations Dr. Anthony Fauci exchanged during the COVID-19 pandemic.
Davis said he followed Fauci's advice over the past year, but after reviewing emails, Davis said the recommendations didn't seem to follow science and data, but instead followed feelings and politics.
Legislative map on Pritzker's desk
Of the more than 650 bills lawmakers passed so far this year, as of Thursday afternoon, just four are on the governor's desk awaiting action.
One is the proposed legislative maps in Senate Bill 2777, which originated as a bill about cemetery oversight.
Republicans are calling on the governor to stand by his word and veto the partisan-drawn map. Also on the governor's desk is a bill with redrawn Illinois Supreme Court districts.
Heated language in Springfield
In a sign of the partisan divide at the state capitol, racially charged language has surfaced.
Springfield Democratic state Sen. Doris Turner said Springfield Republican state Rep. Tim Butler's opposition to a bill she offered to increase the number of elected offices in Capital Township is "Plantation mentality." Butler opposed the bill saying the township is efficient and called Turner's rhetoric slanderous.
He said elected officials need to be better than that.
Law firms say cost of ComEd scandal is $17 billion
Law firms Romanucci & Blandin and DiCello Levitt Gutzler say the $200 million fine ComEd agreed to pay in the bribery scheme the utility admitted to in court documents is nowhere near the $17 billion the attorneys say is the true cost of the corruption scandal.
They derived that figure by reviewing the rates they say ComEd got baked into the law in 2011.
A spokesperson for ComEd said the claims the utility isn't benefiting its customers have no merit.