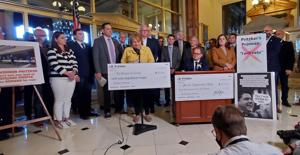 (The Center Square) – Illinois statehouse Republicans are urging Gov. J.B. Pritzker to veto the legislative maps Democrats passed late Friday, and for legislators to approve an independent map-making commission.
The partisan-drawn redistricting of Illinois House and Senate districts passed both chambers Friday, just hours after the final draft and the data used to draw the new lines were released.
"This map is the product of more than 50 public hearings that resulted in hours of testimony from community organizations, advocacy groups and the general public," Rep. Lisa Hernandez, D-Chicago, said in a statement. "Our bipartisan Redistricting Committee worked tirelessly to ensure all voices were heard. I am grateful for everyone who participated in this process and for those who have worked to help us maintain our status as a model for the nation for minority representation."
Community groups representing a broad array of ethnic and religious minority groups opposed the maps because Democrats used American Community Survey data instead of the final U.S. Census data. ACS data isn't accurate on a street level and the final Census data isn't expected until this summer.
Republicans held a news conference Saturday outside Gov. J.B. Pritzker's office at the state capitol in Springfield, urging the governor to veto the partisan-drawn maps.
"Sadly we are seeing a major difference between Gov. Pritzker and Candidate Pritzker," said Senate Minority Leader Dan McConchie, R-Hawthorn Woods. "Candidate Pritzker said he was a reformer who was on the side of the people, but so far Gov. Pritzker is a man who over and over again has shown that he cannot be trusted to keep his word. It is not too late for him to change course, for him to show to the people of Illinois that he is just not another politician who will say anything to get their vote. It's time for Gov. Pritzker to come out of hiding, and come out of the dark office that's behind us and answer the question that all the people of Illinois want to know: Are you going to keep your promise to veto a quickly drawn and inaccurate map." 
Pritzker's office didn't immediately respond to a request for comment. 
Democrats said the legislature is obligated to approve maps before June 30. But Republicans argue there is still time to pass a measure creating an independent commission that could craft maps to garner bipartisan and community support for passage by the legislature before June 30.
If lawmaker-approved legislative boundaries are not approved by June 30, the Illinois Constitution lays out a provision for an eight-member, bipartisan appointed commission with a ninth member being randomly chosen by the Secretary of State.
"Not later than October 5, the Commission shall file with the Secretary of State a redistricting plan approved by at least five members," the constitution says.