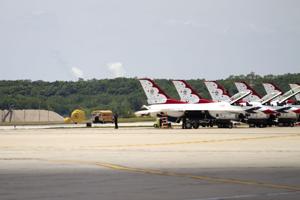 (The Center Square) – Some $94 million from the Rebuild Illinois program has been designated by the state for upgrades and improvements at the state's 120 public airports.
Tom Cleveland, president of the Illinois Public Airport Association, says the money will be used for planning, construction, heavy-duty equipment and even signage.
"Say you have got a less-than-$5 million project. The state is going to pay 90% of that. Local would put in 10%. What a deal!" Cleveland said.
Gov. J.B. Pritzker said the construction projects will create good-paying jobs and give airports opportunities to expand their workforces.
At small airports, Cleveland said, sometimes their heavy equipment for clearing runways and snow removal is very old.
"That's part of the deal here. You could purchase large equipment to make sure your airport is safe in the wintertime," he said.
Having an airport nearby is very important when a community is trying to attract a business to its location, Cleveland said.
"This grant money gives us the opportunity to improve the airports enough to attract business…and more business," Cleveland said. "An airport is an economic engine in a community. It really is."
Acting Illinois Transportation Secretary Omer Osman said the funding is a result of IDOT's commitment to make sure that Illinois airports have the resources they need to keep pace with a rapidly changing industry.
Rebuild Illinois is a bipartisan program that was passed by the legislature in 2019. It is paid for by higher gas taxes, among other things. The program is investing a total of $33.2 billion over six years in the state's aging transportation system. A total of $150 million is identified in Rebuild Illinois for the state's airports. The Illinois aviation system is one of the largest state systems in the nation. It is made up of more than 830 individual landing facilities.