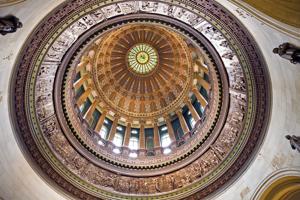 After Mapes indictment, Republicans seek ethics reforms
Statehouse Republicans are demanding there be meaningful ethics reforms in the aftermath of another high-level indictment in the ComEd bribery probe.
Federal prosecutors Wednesday indicted former clerk of the House Tim Mapes, alleging he lied to a grand jury about the utility's attempts to influence former House Speaker Michael Madigan. Madigan has not been charged and has denied wrongdoing.
Lawmakers prepare shell bills for state budget
The Illinois House and Senate are passing so-called "shell bills" to later plug in budget details.
Democratic leaders said the measures will be amended in the other chamber in the days ahead to provide budget details.
The spring session ends on May 31. After that, supermajorities are needed in each chamber to pass legislation, including a budget.
18,900 people file for unemployment benefits in Illinois
Another 18,900 Illinoisans filed for initial unemployment claims last week, nearly 1,400 more than filed the week before, according the U.S. Department of Labor.
There were around 3,580 additional Pandemic Unemployment Assistance filers for independent contractors.
All combined, there are around 421,500 people getting benefits, nearly 21,000 fewer than the week before.
Proposed amendment enshrining collective bargaining heads to voters
It will now be up to Illinois voters whether to enshrine collective bargaining rights in the Illinois state constitution.
Senate Joint Resolution Constitutional Amendment 11 passed the House Wednesday after passing the Senate last week.
Some opponents said the measure will stifle job creation and does nothing to reverse the state's outbound migration.
Illinois Secretary of State warns of scam
Illinois Secretary of State Jesse White is warning of a scam sending unsolicited text messages or emails in his name.
White's office said some include the Secretary of State website and logo that appear official and urged people to not click on any links.
White's office said the scam seeks personal information in an effort to defraud Illinoisans and the office never requests personal information via text or email.
Law enforcement agencies will be out in force for Memorial Day Weekend
Illinois State Police are joining with other law enforcement agencies and the Illinois Department of Transportation to enforce the state's seatbelt laws through the Memorial Day holiday weekend.
ISP said the "Border to Border" campaign is part of the "Click It Or Ticket" campaign funded by federal tax dollars.