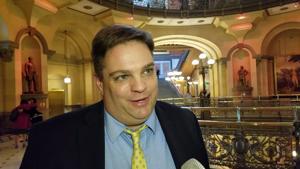 (The Center Square) – With just eight scheduled session days left for the Illinois Legislature, two of the biggest issues – a budget and a new map for the state's political boundaries – remain unresolved. Some other crucial issues could be left behind.
Lawmakers continue to craft a state budget, which is anticipated to be passed before the May 31 deadline for bills to pass with simple majorities.
Then there's the draft legislative maps that could dictate political boundaries for the next 10 years.
State Sen. Chapin Rose, R-Mahomet, said without complete data from the U.S. Census, it's going to be bogus.
"We spent billions of dollars counting every nose in this state and they're not even going to wait around for the Census to come out," Rose said. "They're going to use some [American Community Survey] that doesn't even count 1% of the United States in any given year."
Complete Census data, delayed because of the COVID-19 pandemic, isn't expected until sometime this summer.
Assistant House Majority Leader Elizabeth Hernandez, D-Chicago, expects a potential lawsuit from drafting maps based on inaccurate data.
"If there's any legalities, it should be expected," Hernandez said. "I'm not going to anticipate that 'no we're not going to have any,' so it's better to just expect it."
It's unclear when lawmakers would pass the draft map. The final constitutional deadline is Oct. 5. Gov. J.B. Pritzker said he would veto an "unfair map" after saying on the campaign trail he would veto a partisan-drawn map.
There are other looming issues Republicans in the super-minority of both chambers don't expect to be addressed.
State Sen. Jason Plummer, R-Edwardsville, has been pushing for some action on providing COVID-19 liability protections to businesses with no luck.
"The businesses, the hospitals, the frontline workers that are under threat of frivolous lawsuits because they stepped up during trying times, they're getting no protection from the legislators in Springfield," Plummer said. "They'd much rather let special interest groups go after those folks when the storm clouds have left."
Another issue is the backlog of Firearm Owner Identification Cards Illinois residents need in order to own or purchase guns or ammunition. A backlog of applications has persisted since before the pandemic, where tens of thousands of applicants have been waiting months longer than allowed by law.
"New FOID backlog has decreased by 18% and renewal backlog has decreased by 38% since March 2020, which can be attributed in part to more hiring and technological advances," a spokesperson for Illinois State Police said Friday.
ISP didn't provide an update on how many applications are still backlogged, but did say that the department approved 176,490 new applications and renewal applications since the beginning of the year.
The department said they're looking for legislation to consolidate the FOID and Concealed Carry License, along with other changes, but movement on such legislation has stalled.
State Rep. C.D. Davidsmeyer, R-Jacksonville, doesn't expect any action on a legislative fix before the end of the month.
"The only way the state of Illinois takes action on something like this is if the courts step in and say we have to do it," Davidsmeyer said.
There are around a dozen lawsuits challenging the state's gun laws in state and federal court.
###