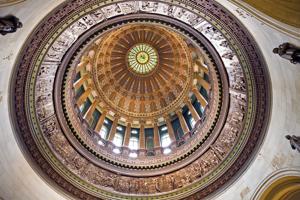 Republicans reach out to Cubs, Sox over seating for people who are vaccinated
A group of Republican state lawmakers is asking the Cubs and White Sox baseball teams to not require patrons to prove their COVID-19 status to sit in certain areas of their sports facilities.
The letters to the sports organization's leaders said people should not have to show medical credentials, and people who have yet to get the vaccine that's still under emergency use authorization, not full authorization, should not be treated as second-class citizens.
Rental property owners get ready for grant program
Rental property owners will need their tenants to cooperate in applying for tax dollars the state is granting to cover unpaid rent from that past year.
The Illinois Housing Development Authority is taking applications for the hundreds of millions in grants at their website IHDA.org now through June 7.
Eligible units can get up to $25,000 that doesn't need to be paid back.
Lawmakers inch forward on ethics packages
Illinois lawmakers from all sides are eying ethics reforms, but there's a difference of what should be prioritized. Senate Bill 4 is working through the legislature with more economic disclosure requirements for lawmakers and regulations on lobbyists.
Republicans are pushing for such measures, but are also pushing to give county state's attorneys the ability to investigate corruption.
Gov. J.B. Pritzker said he'll review whatever ethics package lands on his desk.
State reports lowest number of COVID-19 cases, deaths in weeks
Illinois state public health officials have logged the lowest number of COVID-19 cases and deaths in weeks.
Monday's reported 946 positive cases from the past 24 hours was the lowest since 782 were reported on March 15.
There were just six deaths reported Monday, the lowest since five were reported on March 29. Nearly 38 percent of the state's population is fully vaccinated.
IDNR reminds boaters about safety
Expect more patrols from state natural resource officials on the state's waterways.
The Illinois Department of Natural Resources announced their conservation police are out reminding boaters about safety as part of National Safe Boating Week next week.
Reminders include wearing a life jacket, installing engine cut-off switches and to stay sober when operating a boat.
House, Senate return to Springfield
Both the House and Senate are back in Springfield for the final weeks of session.
While the Senate has this Saturday and Sunday scheduled off, The House is in session this coming weekend.
Both chambers are then scheduled each day through the end of May, including the Memorial Day holiday weekend.