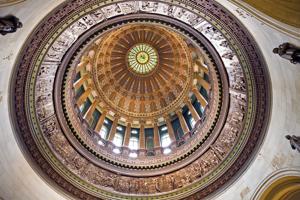 Pritzker sets dates to loosen COVID-19 restrictions, fully reopen the state
Illinois will enter Gov. J.B. Pritzker's COVID-19 reopening "Bridge Phase" next week.
Pritzker also announced a full reopening could be June 11, but even then, the governor said the state will still follow CDC masking recommendations.
It's unclear if the governor will file another round of emergency rules for businesses to enforce the statewide mask mandate.
His latest emergency rule expires on June 3.
Democrats say there's 'no secret' as Republicans showcase majority party's 'map room'
Democrats are defending their efforts in redistricting the state's political boundaries for the next ten years.
Republicans say Democrats are doing their work in secret with a map room, and they've not been invited.
A spokesperson for House Speaker Emanuel "Chris" Welch said residents can follow along and submit their own suggestions at the Democrat's website ILHouseDems.com/redistricting.
Ethics legislation has yet to advance in Springfield
A bill with various ethics measures still has not advanced at the Illinois statehouse.
A Senate deadline for measures to pass to the House has already been extended twice for Senate Bill 4.
The most recent deadline for consideration is today, but the Senate canceled session. The Senate returns Tuesday.
Bills would give Illinois Public Health Department more power over all schools
Teachers' unions are pushing for two bills in Springfield that would require in-person instruction at all Illinois schools, public or private, to be contingent on meeting requirements set by the Illinois Department of Public Health.
The measures also would have the department investigate and potentially shut down schools for not complying with COVID-19 mitigations, instead of local health officials managing such orders.
One bill has already passed the House, and a Senate committee has passed a similar version.
Police honor fallen officers
Police from across the state joined together in Springfield on Thursday to honor the lives of fallen officers in a return of the Illinois Police Officers Memorial Service.
The ceremony invited the families of fallen officers in Illinois from 2019 and 2020, as last year's event was canceled due to the pandemic.
An updated police memorial has been constructed on the capitol grounds since the previous service more than a year ago.
Pritzker encourages motorists to be mindful of motorcycles
Gov. J.B. Pritzker is reminding motorists to start seeing motorcycles.
The governor proclaimed May as Motorcycle Awareness Month in Illinois.
His office said while motorcyclists represent 3% of total vehicle registrations in Illinois, they account for 14% of traffic fatalities.