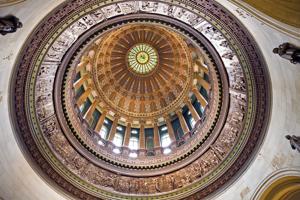 Lawmakers cancel session days next week
Don't expect the Illinois Legislature back in person next week.
The House has canceled and the Senate will come back at the call of the Senate President.
Statehouse action was delayed for hours over a combination of attendance issues and last-minute bills to bring about judicial subcircuits Democrats passed.
There was no action taken to fill the Legislative Inspector General seat that will be vacant after Thursday.
Cahokia Mounds closes for renovations
Beginning March 1, the Cahokia Mounds State Historic Site's interpretive center will be closed for $5 million in renovations.
The project funded by the Rebuild Illinois construction plan is expected to take a year.
Walking tours will resume this spring when the weather allows.
Improvements include replacing the roof, HVAC system, lighting, fire suppression and security.
IEMA announces Radon Action Month
It is estimated nearly 1,100 Illinoisans develop radon-based lung cancer each year.
As part of Radon Action Month, the Illinois Emergency Management Agency is encouraging residents to test their homes for radon.
Radon comes from the natural breakdown of radium and uranium in the soil.
The gas can then make its way into structures through cracks and faults in the foundation.
DCFS caseworker stabbed to death during visit
A 36-year-old caseworker with the Department of Children and Family Services has been murdered.
Deidre Silas was responding to a call in Thayer, south of Springfield, Tuesday where she was stabbed to death.
Law enforcement officials say children were present.
Benjamin Reed was arrested in connection with the crime late Tuesday in Decatur.
State pays off federal loan
The state of Illinois has made a final payment of $302 million for a $2 billion loan federal taxpayers gave Illinois in 2020 to cover COVID-19 expenses.
Illinois was an outlier for utilizing the loan program from the Federal Reserve.
Comptroller Susana Mendoza said with the loan now paid off, Illinois taxpayers will save $82 million in interest payments.
The state still has an outstanding $4.5 billion debt for unemployment insurance, which comes with potentially $100 million in interest if not paid off.
Pritzker to isolate after close contact
Gov. J.B. Pritzker is working remotely after being in close contact with a staff member that tested positive for COVID-19.
Pritzker's office said the governor tested negative as recently as Wednesday morning and is fully vaccinated and boosted against COVID-19.
He'll be conducting meetings remotely through Sunday.