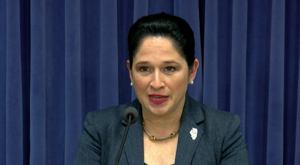 (The Center Square) – A report shows that Illinois is disclosing online how the state is spending federal pandemic assistance funding.
GoodJobsFirst.org reports Illinois is one of six states in the country providing a detailed website to show where the billions of dollars are going. The other states providing transparency on CARES Act spending include Alabama, Georgia, Massachusetts, Michigan and Wyoming.
"One of the things I really like about Illinois was because it has pretty detailed spending descriptions," said research analyst Katie Furtado. "There are a lot of states that just say we spent $3,500 on sewer. OK, what does that mean?"
While most states disclose some information on Coronavirus Relief Fund (CRF) spending, like awardee names and allocations to state agencies and programs, the report found their websites often lack details on how awardees, in turn, spent their funds. Twenty-seven states fall into this category. Nine other states' websites include even less information, and eight states plus the District of Columbia don't have a website at all.
Illinois Comptroller Susana Mendoza feels it is important to change the way some Illinoisans view their state government.
"The main reason for me wanting to do this is I believe that transparency is the road to restoring trust in government and these are people's taxpayer dollars and they deserve to know how they are being spent," Mendoza said.
The state's website was recently featured in the Pittsburgh Post-Gazette.
"Ideally, states would follow the practice of Illinois Comptroller Susana Mendoza. She posts information on the items purchased, the vendor, the date of the purchase and the cost."
The report did not evaluate how the money was being spent, but some have questioned Gov. J.B. Pritzker's power on how to dole out billions of dollars in federal pandemic relief money. His team said federal rules allow the governor to tap into the Illinois American Rescue Plan funds without an appropriation from the General Assembly. During budget talks last spring, Democrats in control in Springfield created a fund to give the governor carte blanche on how to spend the money.
The GoodJobsFirst report recommends a way for some states to improve disclosure methods moving forward.
Governments receiving CRF and other federal money should be required to post their quarterly reports to the U.S. Treasury. Since states are already collecting this information to satisfy reporting requirements, they should provide this information on their own sites. The quarterly reports that states submit to the Treasury include the expenditure data available on websites and much more.