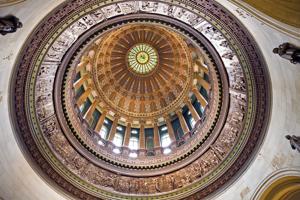 Summit examines problems at Illinois nursing homes
Illinois has many of the most understaffed nursing homes in the nation, according to a report by the Department of Healthcare and Family Services.
Illinois consistently ranks last among states in staffing, with 47 of the 100 most understaffed facilities in the country.
A recent summit hosted by AARP Illinois looked into how to alleviate staffing issues.
Illinois Department of Public Health warns of potentially deadly holiday season
With increased hospitalizations from COVID-19 and concerns of the omicron variant growing, state officials are issuing warnings.
While there aren't any mitigation efforts being announced such as business closures or gathering limits, the Illinois Department of Public Health says it could be a deadly holiday season.
Last week, Gov. J.B. Pritzker said they are working to get monoclonal antibodies throughout the state, but he said supply is hard to come by.
Attorney behind class-action suit against ComEd say utility is trying to pick its own punishment
Attorneys for the class action lawsuit against ComEd aiming to recover damages caused by the utility's admitted bribery scheme says the company is trying to pick their own punishment.
In a news release, the Romanucci and Blandin law firm said ComEd is attempting to lie on the record about the impact of the bribery scheme.
Last year, the utility agreed to pay a $200 million fine for its role in a nine-year scheme to curry favor from former House Speaker Michael Madigan.
Geneva restaurant's lawsuit over Pritzker's COVID-19 restrictions continues
The case Geneva-based FoxFire restaurant has against Gov. J.B. Pritzker's orders closing or limiting businesses in 2020 continues.
A status hearing Friday heard some arguments with the governor's attorney saying the case should be dismissed because the order is no longer in effect.
FoxFire's attorney said they want a ruling against such orders in case the governor tries to limit indoor dining again. Another hearing is scheduled for next month.
White extends driver license expiration dates through March 31, 2021
Expired driver's licenses and ID cards are now extended through the end of March.
Illinois Secretary of State Jesse White's office announced the extension from Jan. 1, 2022, to March 31, 2022.
The extension does not apply to commercial driver's licenses.
White said this will be the final extension.
IDOT seeks questionnaire responses
Where throughout Illinois do you travel?
That's what the Illinois Department of Transportation hopes to study with its annual traveler survey.
The questionnaire can be found at IDOT.Illinois.gov now through Jan. 7. It asks questions about road conditions, snow removal and commuting habits and behaviors.
There are also questions about any changes in travel habits due to the pandemic.