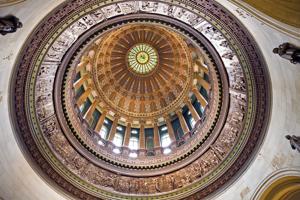 ISBE findings to be sent to lawmakers
The Illinois State Board of Education Professional Review Panel is sending findings to state legislators that include accelerating the additional amount of school funding each year, among others.
One of the eight findings the group advanced Monday is for legislators to increase the annual funding from an additional $300 million to an additional $527 million in order to get to full K-12 funding by 2032 rather than by 2042.
OSHA to investigate collapse of Amazon warehouse after tornado
The Occupational Safety and Health Administration is investigating the partial collapse of the Amazon warehouse in Edwardsville where six people lost their lives during a tornado Friday.
The Epoch Times reports the federal agency has six months to complete its investigation, issue citations or propose any monetary penalties if violations of workplace safety and health regulations are found.
Geminid meteor shower to continue through Dec. 24
Illinoisans are getting a good view of the best meteor showers of the year.
The Geminid meteor shower started last month, but its peak was expected early Tuesday, producing up to 120 meteors per hour. NASA said the best time to see shooting stars will be when the radiant is highest in the sky around 2 a.m.
The meteor shower is expected to continue until Dec. 24.
Bailey picks running mate
First out of the gate for Republicans, state Sen. Darren Bailey, R-Xenia, has announced his running mate for Illinois' 2022 gubernatorial elections is Stephanie Trussell.
At a campaign stop in Lisle Monday, Trussell said their administration would bring zero-based budgets and work toward a tax cut in year two.
The established party primary in Illinois is June 28, 2022, for Democrats and Republicans seeking office in the November 2022 election.
Pritzker signs milk requirement bill into law
A recently enacted bill impacts the drink options in kid's meals at restaurants across the state.
Among the bills Gov. J.B. Pritzker signed Friday is House Bill 3490, which says if a restaurant includes milk as a default beverage in a kid's meal, the drink must be dairy milk and contain no more than 130 calories per container or serving.
The law takes effect immediately.
There are around a dozen other bills remaining on the governor's desk.
Governors call for full funding for invasive carp mitigation
Governors of states impacted by an invasive carp species are pushing for full federal funding of a project to mitigate the harm caused by the fish.
The bipartisan group of Great Lakes governors includes Illinois Gov. J.B. Pritzker, and governors from Wisconsin, Ohio, New York, Indiana, Minnesota, Michigan and Pennsylvania.
The project is estimated to cost more than $850 million. A previous proposal called for impacted states to chip in 20%, a move the states say is beyond their capacity to match.