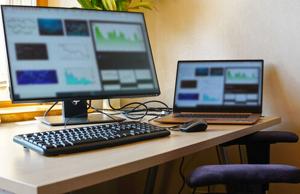 (The Center Square) – With more and more people shifting to jobs that they can work from home, a new study ranks the 200 best U.S. cities for remote worker-friendliness for 2022.
As of September 2021, nearly half of U.S. full-time employees were fully or party working remotely, and more than nine in 10 remote workers said they hope to keep telecommuting beyond the pandemic, according to a recent Gallup poll.
The website LawnStarter considered 20 total factors, including remote job opportunities, internet connectivity and cost of living.
Naperville is the top Illinois city and was ranked as the second-best location in the country to work from home. Known for its high housing costs, the town of about 150,000 gets high marks for its high median income and available workspace.
Chicago ranked 14th overall after getting top marks for 5G home internet availability and food delivery services. Aurora came in at No. 72, Rockford was ranked the 100th best city for remote working, and Joliet was 156th.
Editor-in-chief Jeff Herman said taxes also played a role in the rankings.
"That was a factor in this too because your dollar goes a little bit longer where you live, a place where you don't have to worry about state income taxes, so your take-home pay is a little bit bigger in those states," said Herman.
That is part of the reason the Lone Star State dominates the rankings. Texas claims half of the top 10 cities, including Frisco at No. 1. In addition to no state income tax, several Texas cities earned high scores in the opportunity and connectivity categories.
On the other end of the spectrum, the report said California has high costs and low marks for good workplace factors like available personal space. Nine out of the worst 10 cities are in the Golden State, including Salinas in last place.
Herman said for people who can work from home, it may be beneficial for them to do some to and find an ideal location.
"Some cities are actually paying you to relocate there," said Herman. "I believe it is Tulsa was one of those cities that was doing that and if you stay there for, I think it was a year and a half, they give you $10,000."