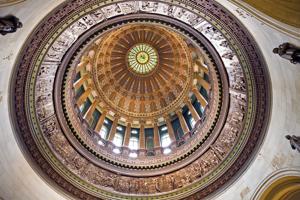 Attorney defends school lawsuits
Attorney Thomas DeVore is reacting to critics of his lawsuits challenging mask and COVID-19 quarantine rules against kids.
Critics, including Gov. J.B. Pritzker, say DeVore is irresponsible in using the courts to challenge the governor's mandates.
DeVore, who filed a lawsuit against the governor and 145 schools on behalf of hundreds of parents across the state, told WMAY allowing one person to strip due process from people asserting their rights is irresponsible.
Pritzker paves way for more electric vehicles
Gov. J.B. Pritzker is laying out the path to shift transportation in Illinois to more electric vehicles.
Pritzker addressed the issue at Heartland Community College in Bloomington.
Part of the sweeping energy legislation enacted this summer includes incentives for EV dealers in certain counties to give thousands of dollars in rebates.
There's also a goal to get 1 million electric vehicles on Illinois roads by 2030.
Police search for remains of Stacy Peterson
Law enforcement is searching a canal in Lockport for the remains of Stacy Peterson.
She has been missing since October 2007 when the mother of two disappeared from her Bolingbrook home.
Drew Peterson is a formal suspect in her disappearance. He will likely spend the rest of his life in prison for the murder of a prior wife.
Police declined to provide any details of the search to "protect the integrity of the case."
Lawmakers cancel Thursday's session
Illinois lawmakers won't be back at the Illinois State Capitol Thursday. Both the House and Senate canceled.
They're scheduled back Tuesday next week for three remaining days of the veto session.
It's expected one major issue they'll take up is new maps for Illinois seats in the U.S. House, where the state loses representation because of continued population decline.
Parents sue 145 schools, Pritzker and ISBE over COVID quarantine, mask mandates
Parents of dozens of students are suing 145 Illinois school districts, Gov. J.B. Pritzker and the Illinois State Board of Education over COVID-19 orders impacting school children.
The case filed in Macoupin County says it is unlawful to exclude students from school or force them to wear masks without the consent of the parent or a court order that includes due process.
People's Law Center says IDOC failures continue
Uptown People's Law Center says the Illinois Department of Corrections continues to fail in providing comprehensive health care to prison inmates and they aren't reviewing prisoner deaths.
The group says a report from an independent court-appointed monitor shows there is no comprehensive plan to address things laid out in a consent decree.
A spokesperson for IDOC didn't immediately respond.