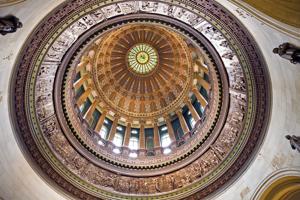 Pritzker extends eviction moratorium to Sept. 18
Illinois' eviction moratorium is now until Sept. 18. Gov. J.B. Pritzker's most recent executive order extends the ban.
However, the order does say landlords with a legal right to pursue an eviction action can challenge the truthfulness of a tenant's declarations in court proceedings.
After 18 months of not getting rent, some landlords have said they are near a breaking point, despite federal tax dollars being made available for rent relief.
Governor vetoes environmental bill
Because of an overly broad definition of "incineration," Gov. J.B. Pritzker vetoed House Bill 3190 Tuesday.
The measure would have prohibited the disposal of certain chemicals by incineration.
But, the governor said without a clear definition of incineration, if the measure was enacted it would prohibit companies from using certain pollution control devices like thermal oxidation in an effort to reduce greenhouse gas emissions.
U.S. Customs seizes fake law enforcement badges
Federal authorities in Illinois recently seized more counterfeit law enforcement badges shipped from China.
The U.S. Customs and Border Protections officers intercepted 26 counterfeit Drug Enforcement Agency badges at the Chicago International Mail Branch.
The agency regularly intercepts narcotics, weapons, prohibited agricultural products and other illegal items at international ports of entry in the U.S.
Federal court puts political map challenge on hold
A federal court is holding off proceedings challenging Illinois' legislative map until after a special session at the end of the month.
Republicans sued saying the Democrats' map is invalid because they're based on estimates, not the full Census data.
The U.S. Court for the Northern District of Illinois said the parties may need to amend their arguments thereafter.
Both sides still have until today to file initial expert reports and supporting materials.
New law says electronic cigarettes makers can't target minors
Beginning next year, marketing for electronic cigarettes can't target minors or be sold as a "low-risk" product in Illinois, under a new law Gov. J.B. Pritzker signed Tuesday.
The measure prohibits the use of cartoons, video game characters and popular children's media to promote such products.
Another measure increases compliance checks of e-cigarette sales around the state.
State Fire Marshal offers equipment grants
Applications for around $2.5 million for fire departments and ambulance services are now being accepted by the Illinois Office of the State Fire Marshal.
Grants of up to $26,000 are being made for small firefighting and ambulance equipment.
The OSFM says applications can also be made for things like masks, gloves and gowns.