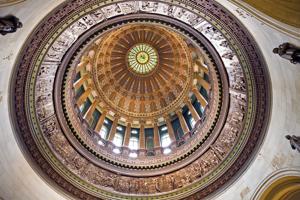 Chicago adds travel rules for visitors from Missouri, Arkansas
Travelers to Chicago from Missouri and Arkansas will have a few COVID-19 will be asked to quarantine or follow COVID-19 testing requirements.
The Chicago Tribune reported city officials added Arkansas and neighboring Missouri to the city's travel advisory this week after several weeks of no travel warnings.
Debate over sex ed standards shows narrow support
Setting out standards for sex ed in all grades awaits action from Illinois Gov. J.B. Pritzker.
While parents could opt their students out, Senate Bill 818 provides standards for if schools are to teach sex ed.
Supporters said the standards need to be updated to include what could be taught in all grades.
Opponents were critical of what they said were graphic depictions being mandated in an all-or-nothing approach.
Concerns remain over long-term impact of COVID-19 pandemic on kids
A new report says the well-being of children in Illinois is much improved over the past decade.
The Kids Count Data Book, compiled by the Annie E. Casey Foundation, shows 16% of Illinois youth were living in poverty last year, down three points from 2010.
They also did better in some areas of education. Despite the good news, there's still concern about the long-term impact of the COVID-19 pandemic on children.
Bill to limit how law enforcement works with ICE heads to Pritzker
Lawmakers sent a bill to Gov. J.B. Pritzker that would further restrict local law enforcement from working with federal immigration officials.
Senate Bill 667 also would close immigrant detainment centers across the state. Pritzker has pledged to sign the bill.
Lawrence Benito, executive director for the Illinois Coalition for Immigrant and Refugee Rights called the new act a win for immigrant communities.
Pritzker signs bill to enhance penalties for wage theft
Employers found in violation of the Illinois Wage Payment and Collection Act can expect stiffer penalties.
The penalty enhancement was enacted by Gov. J.B. Pritzker when he signed House Bill 118 on Friday.
The Illinois Department of Labor said violating employers now owe 5% of unpaid wages, instead of 2%.
Pritzker announces $8 million for apprenticeship programs
About $8 million split between federal and state taxpayer funds is being released by the Pritzker administration in an effort to serve 750 apprentices in the state. 
The Illinois Department of Commerce and Economic Opportunity said the funds will help the workforce in the arts and entertainment sectors to increase opportunities for minorities and targeted populations that are underrepresented.