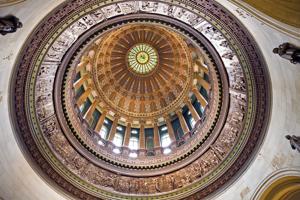 LaSalle outbreak hearing focuses on oversight
Hearings into the Pritzker administration's handling of the deadly COVID-19 outbreak continue this afternoon.
The House on Thursday heard from officials from various state agencies.
One issue of focus was that a crucial oversight position that wasn't filled before the pandemic still has not been filled.
A Senate hearing scheduled this afternoon will delve more into a recent Inspector General report about the outbreak.
Possible compromise emerges on trailer bill
A compromise to drop the state's trailer tax fee from $118 to $36 while making up lost revenue by increasing the one-time title transfer fee by $5 could come together before the end of the month.
Bipartisan legislation to drop the fee back to $18 was heard in committee Thursday.
Labor and infrastructure groups proposed a compromise that could pass before the end of the month.
Chesney floats bill to ban vaccine passports
State Rep. Andrew Chesney wants to prohibit state and local governments from requiring proof of vaccine in order to attend certain events, but the measure does not prohibit private venues from such requirements.
Chesney said he's eyeing an amendment to prohibit the private sector from requiring vaccine proof, especially as some professional sports venues plan to segregate attendees based on their health credentials.
Republicans want answers to map-making questions
House Republicans are demanding to know when the Democrat-drawn maps will be made public.
House Minority Leader Jim Durkin demanded to know where the proposed maps are. House Assistance Majority Leader Elizabeth Hernandez said they're still working to compile the maps and they could be released in the days ahead.
Durkin demanded at least two weeks of public oversight of any proposed maps before they're voted on.
Pritzker says Illinois will follow CDC mask guidance
Illinois Gov. J.B. Pritzker says he's going to modify his COVID-19 guidance to be in line with new federal guidance.
The CDC's updated guidance issued Thursday says fully vaccinated people can resume the activities that they did before the pandemic, without masks or social distancing, except where required by federal, state and local rules.
Illinois has had a mask mandate imposed by the governor for over a year.
Neimerg bill seek to lift mask mandates
Republican state Rep. Adam Niemerg has filed a bill that would prohibit face coverings requirements in schools.
His proposal Wednesday on the House floor drew immediate criticism from Democratic state Rep. Bob Morgan, who said people are still not safe from COVID-19.
Niemerg's proposal is House Bill 4083.