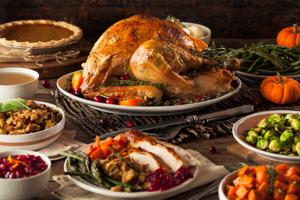 (The Center Square) – Thanksgiving dinner shoppers will get a bit of a break in the pocketbook this year. 
Illinois shoppers participating in the annual American Farm Bureau Federation's (AFBF) Thanksgiving Cost Survey reported the average cost of a traditional Thanksgiving meal is down slightly compared to last year. 
Illinois Farm Bureau volunteer shoppers reported a state-wide average price of $63.87 for a classic holiday feast for 10, or around $6.39 per person. That is a decrease from the previous year's record-high of $64.05.  
The centerpiece on most Thanksgiving tables, the turkey, brought down the overall cost of dinner. The national average price for a 16-pound turkey is $27.35. That is $1.71 per pound, down 5.6% from last year.
"Luckily, this year in 2023 we have not had the impact of avian influenza that really took a number on our turkeys last year, so it limited the amount of turkeys that were raised to market in 2022," said Tasha Bunting, director of Commodity Programs and Food Systems with the Illinois Farm Bureau.  
This year's national average cost was calculated using 245 surveys completed with pricing data from all 50 states and Puerto Rico. Farm Bureau volunteer shoppers checked prices in person and online using grocery store apps and websites.
The shopping list for Farm Bureau's informal survey includes turkey, stuffing, sweet potatoes, rolls with butter, peas, cranberries, a veggie tray and pumpkin pie with whipped cream, all in quantities sufficient to serve a family of 10. 
Most traditional items are less expensive this year, except for dinner rolls, canned pumpkin pie filling, sweet potatoes and veggie trays. 
"While high food prices are a concern for every family, America still has one of the most affordable food supplies in the world," AFBF President Zippy Duvall said. 
The AFBF Thanksgiving dinner survey was first conducted in 1986.