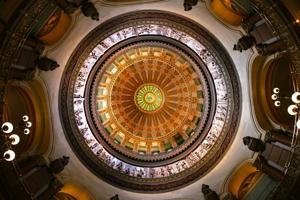 Earthquake rattles north central Illinois
An earthquake shook areas of north central Illinois Wednesday morning. According to the U.S. Geological Survey, the 3.6 magnitude earthquake was centered about a mile southeast of Standard, which is just south of the Illinois River near Peru. Officials said the quake was shallow but could be felt near the Quad Cities and in the Chicago suburbs. There are around 500,000 earthquakes between 2.5 to 5.4 magnitude earthquakes around the world each year.
Eastern Illinois University opens hazing investigation
An investigation into hazing allegations within the Eastern Illinois University men's swimming program has found that the team violated the school's hazing policy. The university opened the investigation after receiving reports of hazing in September. The investigation concluded that first-year athletes participated in team "traditions", including excessive underage drinking which led to a medical incident involving a freshman.
State Fire Marshal offers loans to emergency responders
The Illinois State Fire Marshal's Office has issued $7 million in no-interest or low-interest loans to emergency responders across the state. The loans are made available through the Fire Truck Revolving Loan Program and Ambulance Revolving Loan Program. Under the program, fire departments, fire protection districts and ambulance service providers may apply for low-interest or no-interest loans for the purchase of a fire truck or ambulance. Nineteen Illinois communities received funds for fire trucks and six received funds for ambulances.