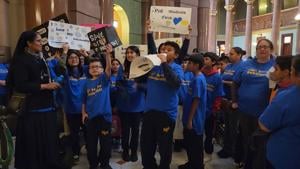 (The Center Square) – Supporters of Illinois' only school choice program that is set to expire at the end of 2023 continue their push to extend the privately funded program. 
Invest in Kids was enacted in 2018 and is set to sunset Dec. 31 of this year. The program allows for individuals to donate up to $1 million to a fund to grant scholarships to qualifying families to send their children to a school of their choice. Donors get a 75% Illinois income tax credit. 
With two days left of fall veto session, the only remaining legislative days before the end of the year, some worry the program will end in the middle of the school year for those getting the scholarships. 
State Rep. Joe Sosnowski, R-Rockford, will join families benefiting from the program for a news conference at noon. Watch that live here.