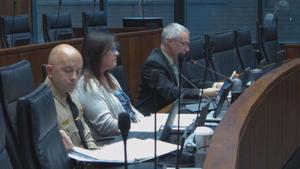 (The Center Square) – Illinois has a likelihood of succeeding on the merits of defending the state's gun and magazine ban. That's according to the Seventh Circuit U.S. Court of Appeals, which released their ruling Friday. 
The ruling comes as plaintiffs challenging Illinois' gun ban are back in the Southern District of Illinois federal court with an amended complaint to block the Jan. 1 gun registry deadline as public comments about the rules continue. 
The Seventh Circuit U.S. Court of Appeals heard the Second Amendment challenge of Illinois' gun and magazine ban in late June. Friday, the three-judge panel issued their opinion. 
"Finally, we have no need to decide whether an alleged Second Amendment violation gives rise to a presumption of irreparable harm, and if so, whether any such presumption is rebuttable or ironclad," the prevailing judges said. "Given our decision that the plaintiffs have not shown that they have a strong likelihood of success on the merits, we think it best to save this point for another day. We also have no comment on the other two parts of the Winter inquiry: where the balance of equities lies, and what the public interest dictates." 
Judges Frank Easterbrook and Diane Wood issued the prevailing decision. 
Gov. J.B. Pritzker praised the decision. 
"Despite constant attacks by the gun lobby that puts ideology over people's lives, here in Illinois we have stood up and said 'no more' to weapons of war on our streets," Pritzker said. "Now Congress must act so Illinois is not an island surrounded by states with weak protections."  
Judge Michael Brennan dissented from the appeals court's majority decision.  
"The banned magazines are 'Arms,' as are other appurtenances such as a pistol grip and a flash suppressor," Brennan wrote. "The [Southern District of Illinois] court correctly read Heller and Bruen to locate 'in common use' in Bruen's history and tradition and applied the 'how' and 'why' test to conclude that concealed carry regulation differs from a ban on possession and does not pass as a historical analog. This led the [Southern District of Illinois] court to correctly issue an injunction against the Act."
An appeal to the U.S. Supreme Court is expected. 
Part of the Protect Illinois Communities Act Pritzker enacted Jan. 10 requires grandfathered firearms to be registered. On Oct. 1, Illinois State Police opened the registry for those with banned firearms. Disclosures are required by Jan. 1. Criminal penalties apply for those found out of compliance.  
After the registry opened, plaintiffs represented by attorney Thomas Maag brought their vagueness challenge out of the consolidated cases in the appeals court. Oral arguments were last month in front of Southern District of Illinois federal Judge Stephen McGlynn. A ruling in that case is still pending. 
Separately Thursday, Federal Firearms Licensees of Illinois were granted a motion by McGlynn to amend their complaint. FFL of Illinois is seeking the state's gun ban registry to be enjoined or the Jan. 1 deadline to be delayed. 
"Otherwise, countless people who lawfully purchased firearms will be turned into criminals overnight at the end of the year or forced to forfeit their firearms," the FFL of Illinois' amended complaint says. "The State cannot meet its burden to defend such an outcome under [previous U.S. Supreme Court precedent.]"
The FFL of Illinois complaint argued the emergency rules Illinois State Police filed for the gun ban registry are inadequate and do not provide proper due process, violating not just Second Amendment rights but the 14th Amendment. 
"Emergency rules – only allowed when there is a 'threat to the public interest, safety or welfare' which requires rules to be adopted in less time than would be needed to complete proposed rulemaking," the filing said. "Why the Illinois State Police waited over nine months from when the Firearms Ban Act was adopted to file emergency rules, rather than making 'proposed rules' under the normal process earlier is not explained." 
They also argue insufficient notice is being provided. 
"Illinois could have easily provided direct notice of the registration requirement to all [Firearm Owners ID] Card holders because it has all of their contact information," the complaint said. 
McGlynn gave the state until Jan. 31, 2024, to respond to the amended complaint. That's after the registration deadline, but a forthcoming motion for a preliminary injunction is expected before Jan. 1. 
On Wednesday, attorneys representing the state defending the gun ban said in a court filing the "FFL plaintiffs agree and do not object to the State Defendants having up to and including December 1, 2023, to respond to the forthcoming Second Preliminary Injunction Motion, which the FFL plaintiffs agree to file no later than November 3, 2023." 
In the meantime, Illinois State Police have been holding public hearings about the gun ban registry rules. The hearings came after the Joint Committee on Administrative Rules approved a motion recommending three public hearings. The first hearing was in Springfield Thursday.  
Friday's public hearing in Chicago included those who support the measure, like Kathlene Sances, president of the Illinois Gun Violence Prevention PAC. She said opponents of the law are tying up the courts with their challenges. 
"Enough with the circular debates, the wasteful use of our court systems and other tactics to appease egos and pockets," Sances said. "Let public safety be something we can all get behind and let it not be a matter that remains open for compromise." 
To other questions, ISP officials referred to their frequently asked questions website. Gun rights advocate Todd Vandermyde said that's not helpful for gun owners facing possible enforcement of rules they say are too vague.   
"You may beat the rap. You ain't gonna beat the ride," Vandermyde told ISP officials. "And that's why I think you have a big problem here because you haven't defined readily restored, you haven't defined readily convertible or what any of that means." 
After Thursday's hearing in Springfield, state Rep. Amy Elik, R-Alton, said she expects the law to be struck down by the courts. In the meantime, she encourages people to file public comments about the gun ban registry by the Nov. 20 deadline. 
"Having hearings like this in the middle of the day is difficult for most people to take off work in the short notice that we've been given, so I'd say definitely go on and submit your testimony," Elik told The Center Square. 
Public comments in writing can be done by emailing ISP.Legal.PublicComments@illinois.gov.
The third and final public hearing with ISP is set for 9:30 a.m. Monday at the Caseyville Community Center at Village Hall on South Main Street in Caseyville. 
ISP said they hope to have answers to questions in the weeks ahead.