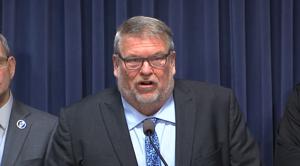 (The Center Square) – As issues continue at state-run mental health facilities across Illinois, legislators are again calling for change. 
A CBS Chicago investigation into the Shapiro Developmental Center in Kankakee shows physical abuse of a patient happening within the facility run by the Department of Human Services. The investigation includes a video of a former employee that shows a worker grabbing a resident by the sweatshirt's hood and cites incidents of starvation and strangulation. 
Illinois legislators reacted to the allegations with disgust and are pushing for legislation to stop the abuse. 
State Rep. Charlie Meier, R-Okawville, filed three measures as part of his "Help Protect Us and Improve Our Home" initiative, which he hopes to discuss during the fall veto session. 
"I hope we discuss some of these issues during veto. I just started drafting a bill yesterday on trying to do a pilot program with the workers," Meier told The Center Square. "I think some Dems maybe will like it."
House Assistant Minority Leader Jackie Haas, R-Kankakee, has now offered her support for the measures after the incidents in her district. 
"These centers are their homes, and they deserve to be treated with basic dignity and compassion," Haas said. "I will work with Rep. Meier to ensure these residents at the Shapiro Center and across Illinois receive the best quality care that is administered with respect and empathy in the places they call home."
The allegations at Shapiro have opened an investigation by the Illinois State Police and the Illinois Inspector General. 
"I hope the Inspector General acts quickly on this investigation," Meier said. "This is why our plan to improve the safety of our most vulnerable includes the installation of cameras at Shapiro and all state-operated Developmental Centers." 
Other changes suggested in the measures include a mass hiring of qualified staff, an increase in administrative and security inspections, and an improved effort to remind employees if they see something is wrong, report it.