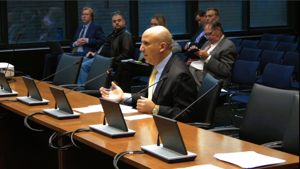 (The Center Square) – Just four months into the fiscal year, Illinois' Health Benefits for Immigrant Seniors program will suspend accepting new enrollees starting Nov. 6, the Illinois Department of Healthcare and Family Services said Thursday.
In 2020, Illinois began subsidizing the health care of non-citizens in the state over the age of 65, estimating the cost to be $1.8 million. Two years later, the state started offering the taxpayer subsidized benefit to non-citizens over the age of 42.
"Through the end of September, nearly 69,000 individuals are covered across the [Health Benefit for Immigrant Adults] and [Health Benefits for Immigrant Seniors] programs," HFS said Thursday. 
Cost projections for the 2024 fiscal year were at nearly $1 billion. For the fiscal year that started July 1, legislators budgeted $550 million for the benefit. 
Gov. J.B. Pritzker's administration this summer suspended the program for non-citizens over the age of 42 and implemented co-pays to save on costs. They also announced that the program for non-citizen seniors would suspend taking new enrollees if the numbers reached more 16,500. 
Tuesday, an official from HFS told the Joint Committee on Administrative Rules the agency was not ready to implement cost saving co-pays for non-citizens enrolled in the program and that more than 16,100 enrollees are now in the system.
"We have become concerned and are monitoring it at a higher level," said Omar Shaker, chief of administrative rules for HFS.
Thursday, the Pritzker administration announced with the capacity of 16,500 nearing, the statea will suspend taking new non-citizen enrollees beginning Nov. 6. 
"Anyone who is already enrolled in the HBIS program and remains eligible for coverage will stay covered," the agency said. "The Department will not be removing any current enrollees who remain eligible for HBIS coverage."
The department further said it will monitor the program levels. 
"HFS understands that this program is a vital resource for individuals who would otherwise be eligible for Medicaid but for their immigration status," a statement from the agency said. "The Department will continue to monitor the costs associated with the program and is committed to preserving this nation-leading program for the future."