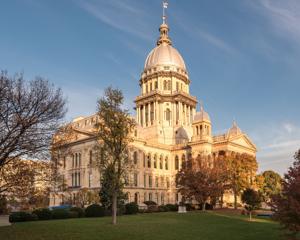 (The Center Square) – Legislation that opponents said would raise costs for electric customers in Illinois could be addressed during the upcoming fall veto session.
The bill would have given Ameren Illinois the right-of-first refusal on transmission line construction projects, thus eliminating the competitive bidding process.
Transmission line planning is big business, and opponents say banning competition is a surefire way to increase costs at the expense of utility customers.
Illinois lawmakers who approved the legislation on the last day of spring session argued the proposals would generate more utility worker union jobs in the state.
Gov. J.B. Pritzker issued an amendatory veto in August, striking out only the portion of the measure that deals with the right-of-first refusal.
"Competition is important and we want to keep costs down for our customers across the state and having a competitive environment helps do that," said Pritzker.
Jason Heffley, the Illinois State Director for Americans for Prosperity, sent a letter to lawmakers urging opposition to the legislation.
"We wanted to put folks on notice that we are going to be pushing hard during the upcoming veto session to make sure that the veto is sustained or that the veto is not overridden," said Heffley to The Center Square.
At least a dozen states have adopted laws that give local utilities a right-of-first refusal to build transmission line projects, including Iowa and Indiana.
Ameren has testified in other states considering similar legislation that the competitive bidding process leads to delays and cost overruns.
During the upcoming veto session in Springfield, lawmakers will have the option of accepting the governor's changes, overriding the governor's veto so that the bill becomes law, or letting the legislation go by the wayside.