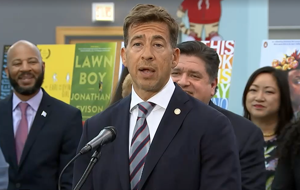 Giannoulias tells luncheon he's been threatened 
As the backer of the new state law penalizing book bans in Illinois, Secretary of State Alexi Giannoulias said he is getting death threats just like some library officials have.
The new law he got approved withholds state grants to libraries that remove books from the shelves, including controversial books with graphic content that are removed from school libraries.
Numerous libraries in northern Illinois received bomb threats. Giannoulias told the Union League Club of Chicago luncheon Tuesday that he's getting threats, too. The Illinois State Library received a bomb threat last month.
Cubs hazmat incident 
Police are investigating a hazmat incident involving a Chicago Cubs employee.
Team officials said the employee detected a foreign substance in a small package. That person was taken to the hospital after he came in contact with a skin irritant.
Officials said the employee had an allergic reaction and was eventually released from the hospital. 
Man charged with teft
A Dolton man faces felony theft charges after he allegedly stole possessions from victims he met through a dating app.
Police from Oak Forest and Lansing set up a surveillance operation this week and took Davon Fullilove into custody. Fullilove allegedly met victims on a dating app in an effort to steal items.
Police said he has multiple outstanding warrants from Michigan, Indiana and Wisconsin.