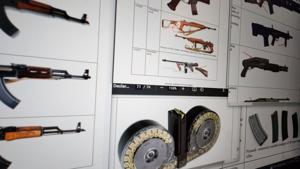 (The Center Square) – With Illinois' gun and magazine ban still facing legal hurdles in federal court, a registry created in relation to the ban has been open for a week. A fraction of a percent of gun owners have complied so far. 
As part of the Protect Illinois Communities Act that was enacted earlier this year, the registration portal for firearms owners in Illinois that own certain semi-automatic firearms, accessories and ammunition opened Oct. 1. While the law bans more than 170 semi-automatic rifles, shotguns and handguns, it also bans handgun magazines over 15 rounds and rifle magazines over 10 rounds. Magazines do not have to be registered. 
Illinois State Police published the first round of statistics Tuesday, and of more than 2.4 million Firearm Owner ID card holders, 1,050 individuals have registered a total of 3,202 firearms, .50 caliber ammunition and accessories. 
"You're at 0.0004%. That's a rounding error," gun rights advocate Todd Vandermyde told The Center Square. 
Of the 3,202 items disclosed, ISP said there were 2,060 firearms listed at the registry. ISP did not provide a breakdown of what types of firearms were registered. For .50 caliber ammunition registrations, there were 1,125 disclosures. There were only 17 reported accessories being registered in the first week. Vandermyde said that highlights the vagueness of what is an accessory. 
"They've got a long way to go if they think they're going to get any real sort of compliance," Vandermyde said. "I think this is starting off about where we thought it would." 
A vagueness argument against the law is in front of Southern District of Illinois federal Judge Stephen McGlynn Wednesday afternoon. Attorney Thomas Maag, who represents the plaintiffs, said he will advance his arguments that the law violates the Fifth Amendment right against self incrimination if the vagueness charges don't result in an injunction. 
The Seventh Circuit U.S. Court of Appeals has yet to release an opinion in the consolidated case challenging the state's law on Second Amendment grounds. Appellate judges heard that case on June 29. 
Vandermyde advised against registering right away as the law continues to be challenged in federal court, among other reasons. 
"State Police still haven't finalized the rules on this stuff and the advice they're giving in their rules and vis a vis their website is contradictory to each other and the statute," he said. 
The emergency gun registration rules are before the Joint Committee on Administrative Rules, which meets Oct. 17. The deadline to register firearms the legislation bans is Jan. 1, 2024. Being found out of compliance could bring criminal charges ranging from a Class A Misdemeanor for the first offense to a Class 3 felony for subsequent offenses. 
Only firearms owned before Jan. 10, 2023, can be registered, according to Illinois State Police. That does not include any firearms purchased under a temporary restraining order issued for thousands of plaintiffs that have now been vacated or those who purchased firearms during a six-day window that a preliminary injunction against the law was in effect.
State Rep. Amy Elik, R-Alton, has a measure at the statehouse she filed last month that would require Illinois State Police to destroy any such firearm registration records it has received if the law is found unconstitutional. 
"My legislation ensures that if certain gun-related provisions are found unconstitutional, the information collected from law-abiding gun owners when registering their firearms is immediately destroyed," said Elik. "This protects the privacy of law-abiding gun owners, preventing the government from retaining their personal information."