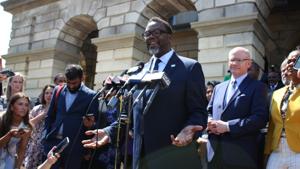 Johnson to travel to D.C.
Chicago Mayor Brandon Johnson will travel to Washington D.C. later this week to meet with environmental agencies. Johnson will use the trip to discuss issues around the possible removal of the city's lead pipes. Some fear that those pipes in Chicago could release lead into city's drinking water, harming consumers.
Concerns over funding 'adversaries' 
Some Illinois House Republicans say tax incentives "should not go to our adversaries." The statement is in reference to Gotion, a Chinese manufacturer of electric vehicle batteries being in line for $7.5 billion in federal tax credits over five years. Gotion will also receive $536 million in tax credits from Illinois and local governments to build a battery plant in Manteno. 
Computers seized by inspector 
Chicago's inspector general has seized computers from the Chicago Treasurer's office. The Chicago Tribune reports the investigation is into Treasurer Melissa Conyears-Ervin, who is accused by two former aides of misusing taxpayer funds.