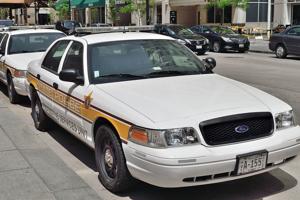 (The Center Square) – Illinois State Police say a new way to make single vehicle crash reports online is safer.
The Illinois State Police has introduced the online Civilian Crash Reporting System so that motorists no longer have to wait at an accident site for a state trooper to make a crash report.
"Especially in those car versus deer crashes, this makes a lot of sense. And those are the vast majority of the crashes that we handle statewide, over the year," Master Sergeant Christopher "Joey" Watson of the Illinois State Police said.
First responders and motorists are at risk of being hit by traffic while they fill out crash reports on the side of a roadway. "We're excited to promote this because it has the ability to really increase roadway safety," said Watson, who has been a trooper for 25 years. 
The system is not for county roads and city street accidents. 
"This system is for interstates, U.S. highways and Illinois routes only," Watson said.
If anyone in a crash is injured, the motorist still needs to call a trooper, Watson said. In most simple crashes, motorists are better off when they go home and fill out the crash report in the comfort of their living room. They are still in compliance with the law. The new civilian reporting system frees up the trooper from having to respond to no injury, low damage crashes. 
"It also frees up the trooper from not having to respond to this particular type of crash and be more proactive so we can be out looking for guns and drugs and gang members and things like that," Watson said.
Crash reports are required by law in Illinois when a vehicle sustains $1,500 worth of damage, an easy cost threshold to meet when a simple carbon fiber bumper can cost $2,000 to replace. 
"Crash Report" is a quick link that is easy to spot on the homepage of the Illinois State Police website isp.illinois.gov.
Troopers review every crash report that is filed online. A valid phone number is required with every report. 
"If you put on a different phone number or one that is not active, they will void that report," Watson said.
Watson reminds motorists not to swerve out of the way if they come upon a deer on the road. 
"Deer cause so much damage," Watson laments, including many unnecessary fatalities. "You want to get rid of speed and get rid of as much energy in that crash as possible, so stand on the brakes, keep the wheel straight and hit the deer," he said. 
IDOT nailed it when they came up with the slogan "Don't veer for deer," Watson said.
"Ninety-eight percent of the time people jerk their wheel and the car will yaw or spin out of control," Watson said. 
A simple car versus deer crash becomes a potential fatality.
"You are the important part of the car and we want you to go home," Watson said.