Virginia Gov. Glenn Youngkin on Friday set a special election to fill the few remaining months in the term of a southwest Virginia lawmaker who recently resigned to become a judge.
Voters will choose former Republican Del. Jeff Campbell's successor in the 6th House District on Aug. 29, according to the writ of election signed by Youngkin.
Campbell resigned July 14 effective immediately after being appointed the same day to fill a judicial vacancy. He had represented the 6th District, made up of Carroll and Wythe counties and part of Smyth county, since 2014.
EX-VIRGINIA GOV, WHO SAW CONVICTION BY JACK SMITH THROWN OUT, SAYS HE'D 'RATHER WIN THAN GET IT RIGHT'
The new delegate chosen by voters will serve out the remainder of Campbell's term, which ends in January. They may not see much action this year as the Legislature isn't currently meeting, though lawmakers could be called back to Richmond if a deal to end the long-running budget stalemate is reached.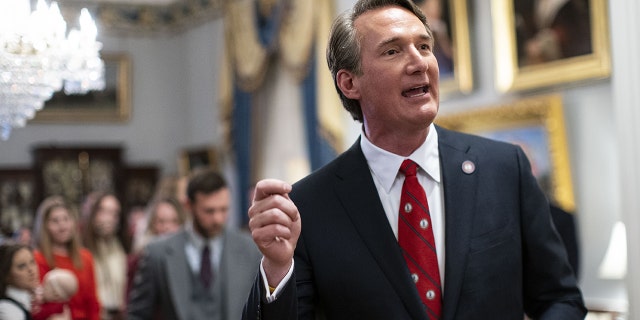 Every seat in the General Assembly is on the general election ballot in November, and candidates will be running under new maps overhauled during the redistricting process.
DEMOCRAT REP. SPANBERGER ALLEGEDLY PLANNING RUN FOR VIRGINIA GOVERNOR: REPORT
It wasn't immediately clear if Jed Arnold, the GOP nominee running unopposed for the newly created 46th District, which includes some of the localities in the existing 6th District, would also run in the special election. His campaign didn't immediately respond to a request for comment.
Arnold practiced law with Campbell and was his legislative aide.
The last day for candidates to file is Wednesday at 5 p.m., according to Youngkin's office.
CLICK HERE TO GET THE FOX NEWS APP
The new maps generated by the redistricting process have triggered a flurry of legislator retirement announcements. While there are other current legislative vacancies that are expected to go unfilled until the November general election, a new law that took effect July 1 set a deadline by which Youngkin was required to set the special election for Campbell's seat.